Celtic Dragons: Nia Jones believes Welsh side making progress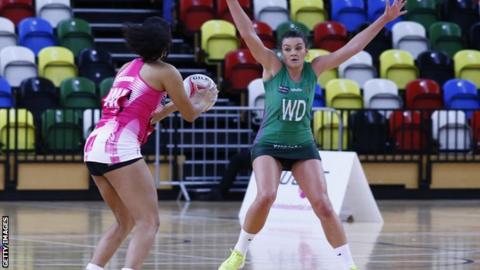 Nia Jones believes the Celtic Dragons are making progress after their second win of the season.
The Welsh side's 50-46 triumph at Strathclyde Sirens was just their second away win in the past five years.
Jones is pleased Celtic Dragons are showing sings of improvement under head coach Tania Hoffman.
"We haven't had the best record as a franchise but it's a brand new squad," she explained. "We need to approach every game like it's a fresh start."
Dragons secured their second win of the season by edging ahead in a nervy final quarter.
The Welsh outfit have now won as many matches by round five of the 2019 season, as they did in the whole of their 2018 campaign (won two, lost 16).
Sirens led by a single goal at half-time but Dragons refused to let them pull ahead, producing a solid defensive display in what was a scrappy and tenacious tie.
Jones felt her side showed great character to pick up such an important win.
"With it being such a close game, I was really pleased the character we showed," she said.
"We dealt with the physicality really well and we just stayed within reach throughout the whole game."