England Netball: Commonwealth Games gold medallists remain third in world rankings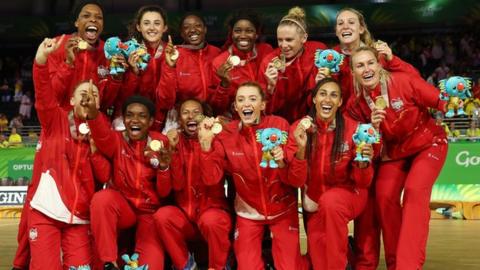 Commonwealth Games gold medallists England remain third in the world netball rankings despite their historic win on the Gold Coast.
In the updated rankings Tracey Neville's side are below world number one Australia, who they beat in the Commonwealth finals.
New Zealand retain their second place ranking and Jamaica, who finished third on the Gold Coast, stay fourth.
Northern Ireland, Scotland and Wales make up positions eight, nine and 10.
South Africa are fifth after their fifth place at the Games.
Malawi's Commonwealth victory over New Zealand in the pool stages sees them in sixth position ahead of the Uganda.
The latest rankings include results from the Commonwealth Games and Netball World Cup 2019 Regional Qualifier, Oceania, Taini Jamison Trophy, Hong Kong four Nations Tournament and the Uganda versus Barbados series.