Netball Superleague: Layla Guscoth on juggling junior doctor life with new season
Last updated on .From the section Netball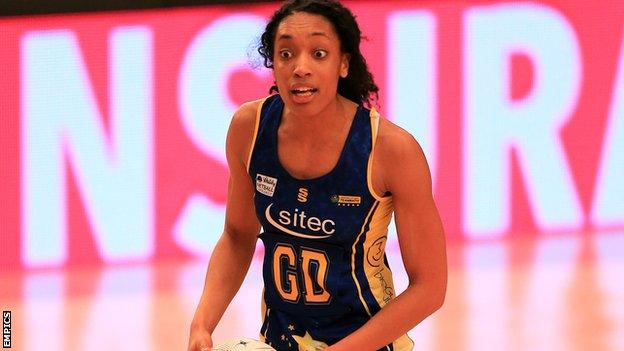 "I wish I could say I was really organised and had all my life together, but it's actually the complete opposite."
Layla Guscoth's assessment of how she withstands the pressures of being a junior doctor while repelling some of the best goal attackers in netball is a modest one.
But as the new Superleague season looms, the Team Bath star will be continuing to strive towards her goals in the medical profession while seeking to keep out goals on the court.
Named in 2017's Superleague Team of the Year and accomplished at goal defence, goal keeper or wing defence, the 25-year-old also works full-time at Southmead Hospital in Bristol.
On social media, the FY2 [Foundation Year Two] describes herself as "half doctor, half netball", but how hard is it to juggle such a demanding career with life as an elite athlete?
"For me, they compliment each other really nicely," she told BBC Radio Bristol. "I enjoy having something off the court that can help to balance things out.
"I think junior-doctor life is really rewarding and enjoyable but it also comes with a lot of stresses.
"So I like the fact that, at the end of a day, I can go and have a joke with the Team Bath girls and meet so many different people."
Opening round of 2018 Netball Superleague fixtures (all times GMT)
Team Northumbria v Team Bath, Sat 10 Feb (18:00)
Loughborough Lightning v UWS Sirens, Sat 10 Feb (18:00)
Severn Stars v Manchester Thunder, Sat 10 Feb (18:00)
Wasps Netball v Surrey Storm, Sat 10 Feb (19:00)
Celtic Dragons v benecosMavericks , Mon 12 Feb (19:00)
What is more, the former Oxford University and University College London student is not alone in Team Bath in practising two challenging careers at once.
Her partner in crime in the defence, captain Eboni Beckford-Chambers, works for Bath-based Mogers Drewett Solicitors, leading a Blue and Gold squad that also includes teachers and students.
"It's a really diverse team," Guscoth added. "Netball is a really nice break and our work makes us enjoy each other a lot more I think.
"As a team, we'll often train two or three times a week in the evenings, and that's just our netball sessions. On top of that, we'll have some weights sessions, three or four running or conditioning sessions, and then you might have a practice match too. So it does add up.
"It's not a sport that's fully professional, so all around the country, there are lots of women who are working as teachers, lawyers and doctors while trying to balance the sport at the same time."
'We need more consistent performances'

The 2018 Superleague begins on Saturday, 10 February, with Team Bath travelling to Team Northumbria (18:00 GMT).
The West Country club finished fourth in 2017, while Wasps beat Loughborough Lightning to win the Grand Final, so what would Guscoth prescribe to enable Team Bath to match them?
"We went through a really turbulent season last year," the former Loughborough defender recalled. "We had some performances that were great but we were way too inconsistent.
"That's the thing that would help us this year - more consistent performances. We're definitely striving for something higher than fourth place.
"All the teams are looking great, in better shape than last season. But we have been putting ourselves under more pressure. Hopefully all the effort we have put in during the off-season has helped."
While the players have been working hard on the court, work has also continued off it to continue to try to grow the game of netball.
Team Bath's first home fixture of the season against Surrey Storm on 23 February is already sold out, and Guscoth feels huge strides have been made.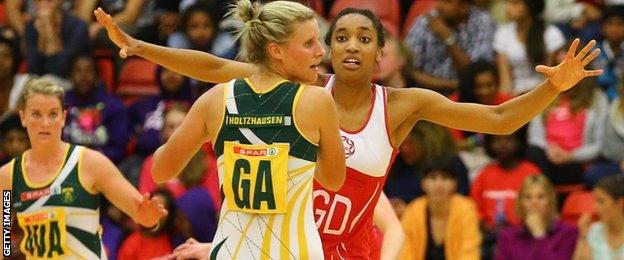 "I remember, even about seven or eight years ago, at some of our finals, there were about 500 people there, in one of the club venues," the defender reminisced.
"Now there are matches at the Copper Box Arena, and all around the country, where there are 6,000 people coming to watch us. It's so impressive."
'I have to think about establishing a career as well'
Guscoth has previously played internationally, so is a move to full-time netball with the national team on her radar?
"It's definitely something I'd consider in the future but recently I've had to think a bit more about trying to establish a career as well," she explained.
"One of the great things about netball in this country is that it's really taken off in the past few years and you can see that from all the media coverage, but also from the opportunities that are available to people. There's now a full-time programme.
"That's really great for the sport but obviously poses it's challenges when you have a full-time job. It's hard."
For now, the former Hertfordshire Mavericks defender - who helped the Mavericks win the title in 2011, aged 19 - is focused on helping Team Bath add to their record five Superleague crowns.
Team Bath won January's Tri-Tournament - streamed live on the BBC Sport website and app - against Severn Stars and Wasps, victories that have given them optimism ahead of the new Superleague campaign.
And the Blue and Gold are hoping that the return of England attacker Kadeen Corbin - who was previously at Bath between 2010 and 2013 - can help boost their play-off bid.
"We do have the team that can do it," Guscoth added. "We've had some great new additions. Kadeen is someone who can win you any game.
"We've got players with lots of different experiences now and I genuinely believe we can win. I am a super-competitive person who loves winning.
"I definitely want us to make the play-offs and once you do that then it's kind of anyone's game."
Layla Guscoth's full interview with BBC Radio Bristol's Geoff Twentyman is available here via the BBC iPlayer Radio service until 5 March.
2018 Netball Superleague schedule

Round 1:

10-12 Feb

Round 11:

7 May (Plus one match on 18 June)

Round 2:

17-19 Feb

Round 12:

12-14 May

Round 3:

22-24 Feb

Round 13:

18-21 May

Round 4:

26 Feb

Round 14:

25- 28 May

Round 5:

2-5 March

Round 15:

1-2 June

Round 6:

5-10 March

Round 16:

8-11 June

Round 7:

16-18 March

Round 17:

15-16 June

Round 8:

21-22 April (Plus one match on 28 May)

Round 18:

21-25 June

Round 9:

27-29 April

Round 19, semi-final:

Saturday, 30 June

Round 10:

4-5 May (Plus one match on 12 March)

Round 20, Grand Final:

Saturday, 7 July