Trish Wilcox: Wales Netball part company with coach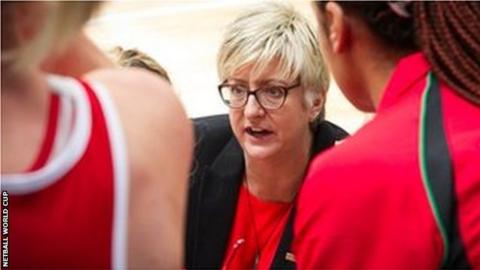 Welsh Netball have parted company with head coach Trish Wilcox after failing to qualify for the 2019 World Cup.
Wales lost to hosts Scotland and Northern Ireland in the qualifying tournament, missing out on the World Cup despite being ranked above both of those nations.
Wilcox also leaves her role as head coach of Celtic Dragons.
Welsh Netball CEO, Sarah Jones said: "This has been a difficult decision."
Wilcox's departure comes just over two months before the start of the 2018 Commonwealth Games on the Gold Coast.
She also departs the Celtic Dragons, who propped up the 2017 Superleague table with 16 defeats in 18 matches.
Wilcox succeeded Melissa Hyndman as the new Head of Elite Performance in October 2014.
She had previously worked for Netball New Zealand and Auckland Netball, Cook Islands and Samoa Under-21s.
Wilcox led Wales to seventh at the 2015 Netball World Cup in Sydney, which was their highest finish since 1991, but performances since then have slipped.
"I would like to thank Trish for her time in charge of Wales and Celtic Dragons," said Jones.
"Trish has been an integral part of Welsh Netball over the last few years.
"She has forged a proud, passionately Welsh ethos within the senior squad and has managed the team well despite some challenging constraints.
"Trish joined at a transitional time for netball in Wales, her dedication and passion is unquestionable.
"It is with regret we have had to make a change, as Trish has worked very hard over the last few years.
"However, it is known targeted and expected results for Celtic Dragons, Netball Europe 2017 and Netball World Cup Qualifiers 2018 did not meet expectations.
"Given we face another fiercely competitive Superleague season with Celtic Dragons and a challenging Commonwealth Games pool, we must look to the future and implement a change."
Assistant coach Mel Tuckwell and team manager Donna Crossman have decided to step down from their voluntary management roles.
Welsh Netball say they will make an announcement regarding a new management team in the near future.
"Our focus now turns to bringing in a new management team to take Wales and Celtic Dragons forward," said Jones.
"Welsh Netball, the fans and sponsors have the highest expectations and we, along with our players, are determined to work towards future success."