Netball: Wales 71-45 Samoa
Last updated on .From the section Netball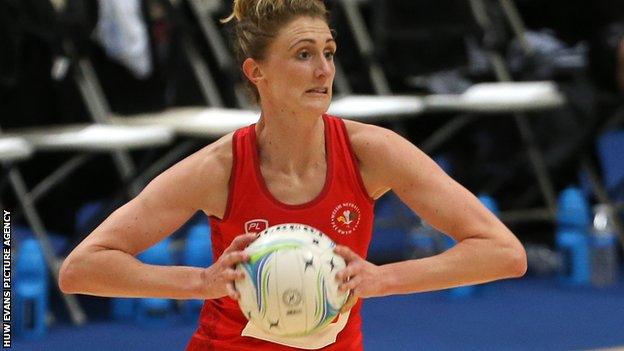 Wales beat Samoa 71-45 in their second netball test of the week in Cardiff, after leading 38-24 at half-time.
The Pacific Islanders took a 9-8 lead before a run of seven goals gave Wales an advantage they increased in the second and third quarter.
Wales won the first match on Tuesday 72-46, exactly the same margin.
The series marked Wales's warm-up for the Netball Europe championship in Perth, Scotland, in January which also serves as a World Cup qualifier.
There was a debut on Tuesday for shooter Eleanor Roberts, while Exeter University defender Christina Shaw, the only player from outside the Celtic Dragons superleague squad, shared goal-keeper duties with another relative newcomer Leila Thomas, in the absence of regular vice-captain Kelly Morgan through injury.
Only two out of Wales, Scotland and Northern Ireland will progress to the World Cup in Liverpool in 2019, though Wales have booked their place on Australia's Gold Coast for the Commonwealth Games in April 2018.
Wales captain Suzy Drane told BBC Sport Wales:
"Credit to Samoa, they came out with a hard defensive game but we found we were able to play around that and take the physicality while making sure we could still play our game.
"We had a slower start than we wanted but pulled away in the last five minutes of the first quarter. We want to make sure we start hard because we know when we go up to Scotland, that Northern Ireland and Scotland will be pushing us in the World Cup qualifiers in January.
"Overall, pleased with the series, good that we've got players on court exposed to international level, and great that we've got Eleanor a first cap."
Wales: Georgia Rowe, Sarah Llewelyn, Bethan Dyke, Kyra Jones, Suzy Drane (C), Nia Jones, Leila Thomas. Subs: Sara Bell, Eleanor Roberts, Amanda Varey, Christina Shaw, Leila Thomas.
Samoa: Nicolette Tato (C), Sanonu Robertson, Giorja Fatu, Liana Hogarth, Seiafi Lafaiali'i-Sapolu, Ariana Luamanu, Sisavaii Muliaga, Terrelle Onesemo, Soli Ropati, Tahnyshavaughn Salona, Sanita To'o, Betty Tuipulotu