Netball: The sport which is seeing a big boom in England
By Victoria Polley and Monica Rimmer
BBC Sport
Last updated on .From the section Netball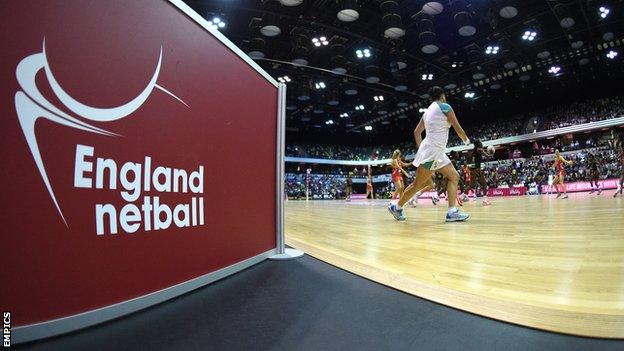 It is a sport that has never featured at the Olympics but is on the rise across England, with record numbers of participants playing the game.
"Netball is thriving, a lot of girls live and breathe netball," says England Netball development officer Pauline Knight.
So what has caused the boom in the sport?
A surge in Superleague has played a part, according to Knight, along with the success of the national team, who are ranked third in the world.
And it's not just a woman's game anymore. A men's equivalent - 'Nets' - is gaining global recognition.
This could give the game the final seal of approval at Olympic level, with England head coach Tracey Neville suggesting the sport needed more male players in order to do so.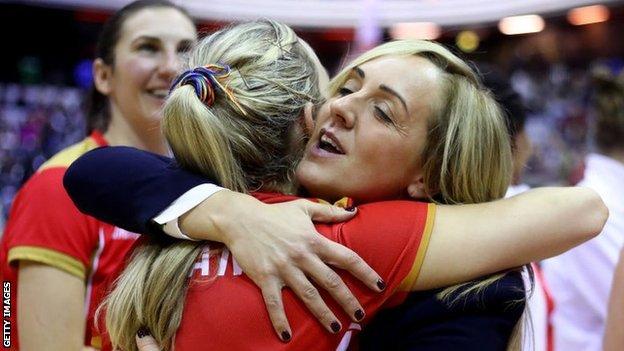 "[Raising the profile of] female sport in general is always a challenge. Australia and New Zealand would disagree because there it's played equally by both genders," said Neville.
"That's only the case in pockets in the UK. Obviously, to increase male participation in netball would increase the chances of it being included in the Olympics."
The numbers speak for themselves - there was a 44% increase in participation at grass roots level in the last year, with nearly 30,000 players pounding the courts across England.
One city where netball is thriving is Birmingham.
With two Superleague sides - Severn Stars and current league champions Wasps - now both within 30 miles, Knight says it has helped dramatically with raising the profile of netball in and around the city.
"We've never had a Superleague team on our doorstep before. Wasps have a large fan base and girls want to get into the training hubs," she said.
"Wasps do lots of family activities, they come out to give prizes, offer tickets to their games as prizes too."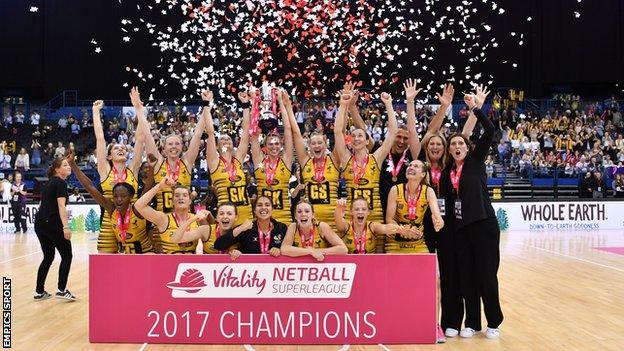 The effect can be seen in the Birmingham Netball League, which boasts both winter and summer competitions, each featuring 12 divisions of eight teams.
The league has been running for more than 75 years, with many of the first teams to be set up still playing in the top few divisions.
"Years ago there were seven players to a team. Now for many teams there are squads per team which gives individuals a little flexibility," said Knight, England Netball's development officer in the city.
'A long time coming'
Lydia Fletcher set up Harborne Hornets in Birmingham in July 2011 having played netball since the age of eight.
"Forty five girls showed up for the first session, there was massive demand for it," the 33-year-old said.
The club started with two teams and has gradually developed more as they established themselves in the Birmingham Netball League.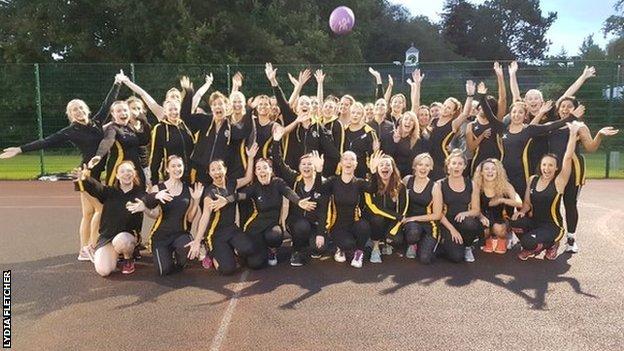 And now Fletcher, the Hornets' chairperson, witnesses hundreds of women playing each weekend, with Hornets contributing six teams to the league.
"It's so empowering to see all these women doing something they love," she said.
As a PE teacher, Fletcher knows perhaps more than most about the challenge of raising netball's profile at grass roots level.
"At school we play Fast5 a lot, the kids love it when you say 'that goal is worth six points'. It's a commercial way to get people involved."
She also agrees that the Superleague has helped raise the profile of netball among the masses.
"For netball socials we go and see Wasps play, I watch a lot on TV, it really helps give it [netball] credibility.
"Tamsin Greenway is a complete idol of mine, I don't know what I'd do if I met her," she joked.
"I spotted a Wasps player the other week and I was totally fan-girling and that's how it should be. If you spotted a rugby player, it'd be the same.
"There's been a big boom in the last five years, it's been a long time coming."

Netball's boom in numbers
Sport England's last Active Lives survey, covering May 2016 to May 2017, suggested more than 286,000 play netball at least twice in 28 days.

Their previous Active People Survey, published in December 2016, revealed that 180,200 people aged 16 and over took to the court at least once a week.

That was an increase of 25,400 (16.4%) on the same period the previous year, and a rise of 68,500 (61.3%) since 2006.

England Netball say there has been a rise in those affiliated to play in leagues, with more than 103,000 members of the governing body for the 2016-17 season, a 3.42% increase in members on the previous year.

Back to Netball schemes have seen more than 60,000 people return to the sport since their introduction in 2009, according to research by Liverpool John Moores University.

And it is not just women getting involved. Men are playing across the Pacific and it seems it is gaining interest in England.
Indoor netball - or 'Nets' - a version of the game played in netted courts where the ball is never out of play, has women's, men's and mixed teams competing across the globe, with the England women and under-18 sides world champions.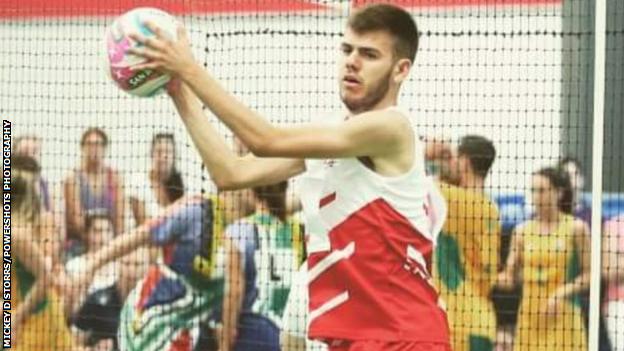 Jack Huxley, 22, started playing three years ago and thinks men playing netball will start to filter through.
"People say it's a women's sport but they can think what they want. It's so fast and exciting to watch," he said.
"At school, I never played netball so I think that probably has to change for it to become the norm and not be seen as just a women's sport."
Netball in a nutshell
There are seven players who each have their own position and can only move in certain areas of the court
Only two players - the goal shooter and the goal attack - can score and they must be inside the goal semi-circle
A match is split into four quarters of 15 minutes
Players are not allowed to run when they are in possession of the ball
England Netball initiatives have attracted more women of different ages and abilities back into the game, including walking netball - the sport's fastest-growing programme.
It is netball, but, as the name suggests, at a slower pace. The game has been designed so that anyone can play it regardless of their age or fitness level.
Bev McIntosh, 51, discovered walking netball while recovering from cancer.
"I've had a year and a half battling with cancer and I needed something to get me moving again. I'd just finished chemotherapy, I saw a tweet for this group and thought it could get me moving again," she said.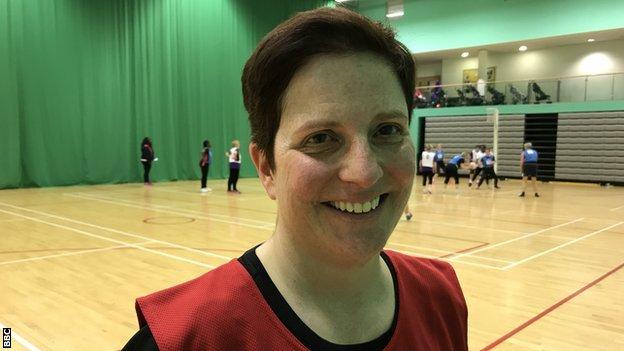 "It brought me great joy, it inspired me to get moving again and restored me back to health, I've been doing it for about a year now, it's been fantastic, I haven't looked back."
Walking netball is keeping pensioners active too and, at 78, Valerie Sampson is the oldest in attendance at her class in Havering, east London.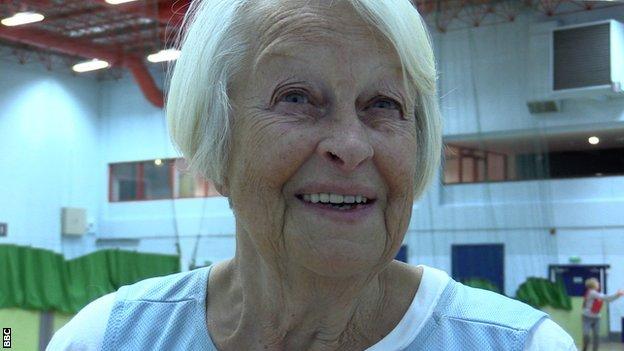 She played netball until her late 30s but has always had a love of the game.
"It's harder because I want to run. The whole game is different now 30, 40 years on," she said.
"It's a much faster game with short, sharp passes."
Lucy Hantson, an England Netball community coach running sessions in and around London, says the classes have a big impact.
"One of my ladies gets two buses to come and they'll say things like 'I laughed more in the session than I have all week'," she said.
"It's social, it's going out and it gives them something to look forward to. It just keeps them active."
Back to Netball is another programme providing a gentle reintroduction to the sport for those who have stopped playing, enticing 15,500 to return in 2016-17.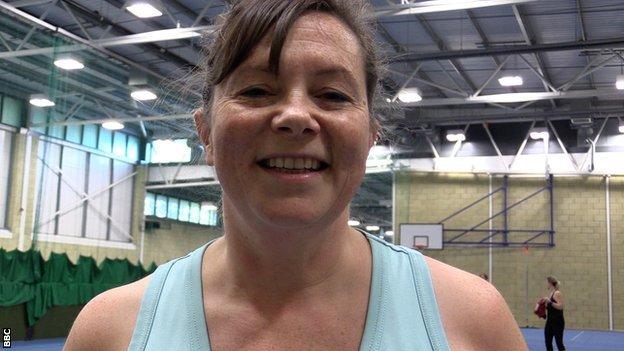 "I started work, had a family so I didn't play it for a long, long time and then I heard about 'Back to Netball' so when the children started to go to school, I came here," said Emma Cavanagh, who attends a class in Chelmsford.
"I think we don't get to play many competitive sports as women. We get to do lots of aerobics, boxercise, stuff like that but it's really good to get into a team game."
Netball's answer to Twenty20 cricket?
In an attempt to bring the sport to a wider audience, a shorter form of the game - Fast5 - has been introduced.
Fast5 was adapted from a previous version called Fast Net, and uses only five positions on court as opposed to the traditional seven.
Matches only last 12 minutes compared to the standard 60, teams can score double points in a two-minute power-play and five-point goals are on offer.
England were crowned the 2017 Fast5 World Series Champions in October and a 'Fast5 All Stars Tournament', launched last year.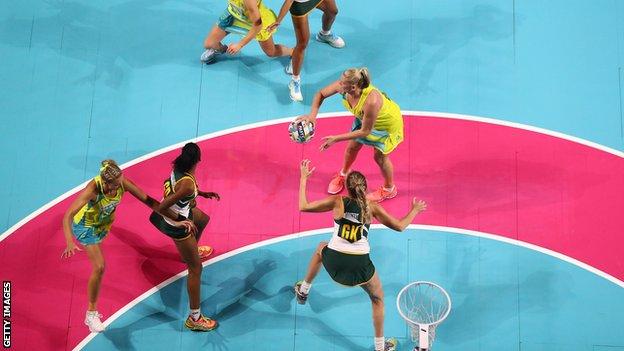 "Fast5 is helping to break down barriers if people still think netball's a playground sport," says England Netball chief executive Joanna Adams.
"It's a bit like Twenty20 cricket. It's fast, it's fun and vastly different from the traditional form of the game."
Its long term impact remains to be seen. But for now, netball success for England in April's Commonwealth Games in Australia, and at the 2019 World Cup on home soil in Liverpool, may be the next step towards the continuing growth of a sport that is on the up.