Tania Hoffman: Surrey Storm coach says UK netball still '10 years behind'
Last updated on .From the section Netball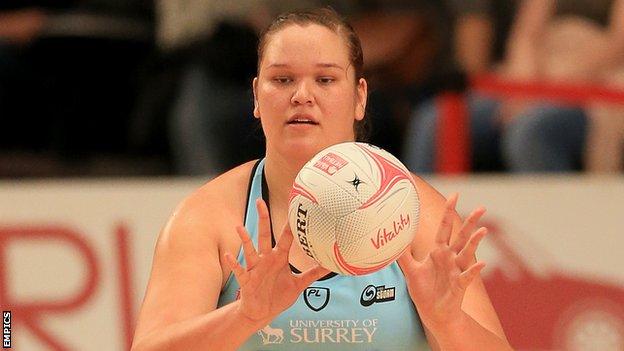 Surrey Storm coach Tania Hoffman says British netball's profile is improving but is still "10 years behind" some other countries.
Hoffman was named Storm coach in September, having been an assistant at New Zealand side Central Pulse.
Defending champions Surrey are top of the Superleague table after winning their five opening games this season.
"What's pleasing to see is that there is more netball on television," Hoffman told BBC Surrey.
"It's particularly pleasing for [shooter] Megan [Craig] and myself is that our games have been shown in New Zealand.
"I suppose that just shows how much New Zealand love their netball, but I can't see that happening with the ANZ [Australia and New Zealand] Championships starting this week, I don't think that will be shown on TV here."
Hoffman also said she believes British players are "more passionate" about the sport, because of its amateur status.
"There's still a long way to go for netball in the UK - in terms of what's happening around the rest of the world," she added.
"But they're getting there slowly and England Netball are really pushing the others teams as well, but I think we're still 10 years behind here."