Netball: Scottish Thistles to take on Trinidad and Tobago
Last updated on .From the section Netball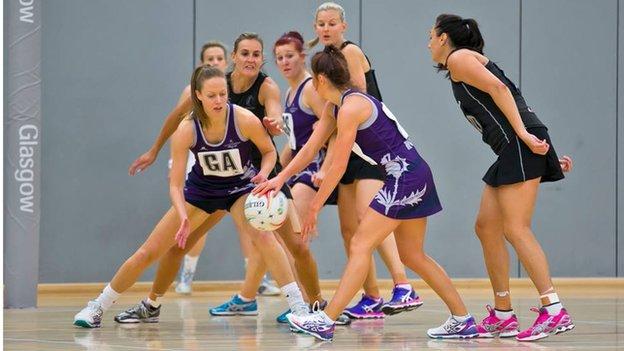 Netball's Scottish Thistles continue their preparations for the 2014 Commonwealth Games with two matches against Trinidad and Tobago in Glasgow.
Head coach Gail Parata's team meet the Calypso Girls at the Emirates Arena in a Test series on 1 and 2 April.
Netball Scotland's Maggie Murray said: "This will be an exciting test series as the teams are closely matched - we are ranked 12th and they are eighth.
"It will be a good challenge for us and we've been working hard to prepare."
The games will be the last chance to see the Thistles in international action at home before the Commonwealth Games.
Murray, the organisation's chief executive, added: "The squad's training is going well and the players are really looking forward to these matches.
"There's a real incentive for the players and the team to do well as they will be competing at the very highest level of the sport at the Games and against the number one ranked team in the world, the New Zealand Silver Ferns.
"We're hoping we will get big crowds to cheer the team on."
The Scots began their build-up to the Games with