Gail Parata prepares for Scottish Thistles coaching debut

By Keir Murray
BBC Sport Scotland
Last updated on .From the section Netball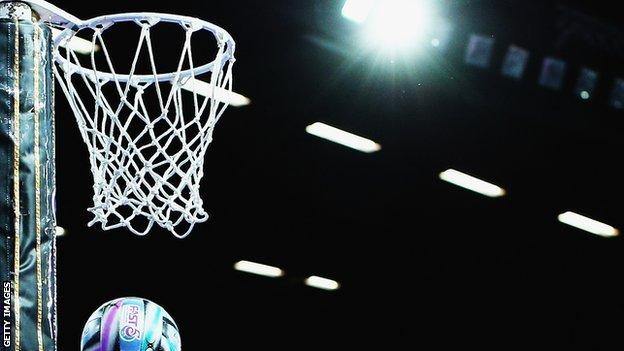 Gail Parata takes charge of the Scottish Thistles for the first time when they take on Surrey Storm Netball in a friendly on Saturday evening.
The New Zealander, tasked with preparing the Scots for the 2014 Commonwealth Games, arrived in Glasgow 10 days ago but has been implementing her plans from Wellington for months.
"We've been preparing for this since September," Parata told BBC Scotland
"We're putting everything that we have learnt in the past months into action."
The match is the Thistles' last before they take on the team ranked second in the world, New Zealand's Silver Ferns, in a double header at the Emirates Arena in Glasgow on 12 and 14 January.
Parata enjoyed a 14-year playing career, represented her country on many occasions and spent the last decade as a high-performance coach.
She has endured a drawn-out process for her working visa to come through but is pleased to now be dealing with the Thistles players first hand after months spent communicating with Netball Scotland coaches on email and Skype.
"I'm really happy to be here and working with the girls," she said ahead of the trip to Guildford with a 15-strong squad.
"The game against Surrey Storm is really important preparation for the Silver Ferns tour next month.
"We're not really focused on the score but we always go out to try to win our matches.
"Surrey Storm are one of the Superleague teams that are always challenging for a top-four placing so they'll be pretty tough.
"I understand that in the past when the Scottish Thistles did play in the Superleague they were beaten by high margins by Surrey but I'm pretty confident that we can have a better showing."
Parata says she has been "fortunate to have the great support" of caretaker coach Jill Fullarton in Glasgow while she waited for her paperwork to be processed to allow her to work in Scotland.
She visited Scotland twice since May and set a training plan in motion, having noticed that the squad's fitness was not good enough to effect a rise above 12th in the world rankings.
"We set up a programme and the girls have been following it," added Parata.
"We have a great multi-disciplinary team who have set some really good targets in the fitness testing and when I returned this week I could definitely see an improvement in the girls from when we started."
Asked for her initial impression of netball in Scotland compared to her home country, Parata replied: "In New Zealand we play it more often, we have a lot more competitive teams and we have a huge membership.
"I understand there are about two or three teams here that are strong enough to challenge and the other teams are not as strong."
Saturday's match in the south of England will help Parata gauge just where the Thistles stand.