Serena Guthrie: Team Bath name England international captain
Last updated on .From the section Netball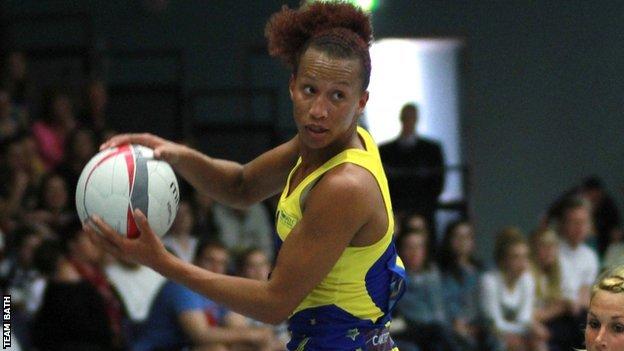 Serena Guthrie will captain Superleague champions Team Bath next season.
The 23-year-old is joined in the squad by fellow England internationals Pamela Cookey and Stacey Francis, who has been named vice-captain.
Guthrie takes on the armband from Asha Francis, who has dropped out of the squad as she is pregnant.
Rejoining the first team is former Wales captain Ursula Bowers, also known as Billy, who was part of the coaching set-up last term.
New Zealand defender Jenna Murie has also joined Bath after playing for Celtic Dragons last season.
"I have been really impressed with the standard of our trials this year," said head coach Jess Thirlby.
"I am really happy with the balance within the squad. We have some very experienced players and an abundance of leadership within the team.
"Equally important to our successes in the past though is the inclusion of youth and players that bring something different to the team.
"I feel we have all the ingredients to go a long way this season."
Team Bath are the most successful team in the history of the Superleague, having won five titles from eight campaigns.
They start their 2014 campaign at home to Team Northumbria on 31 January.
Team Bath squad 2014
Pamela Cookey - GA, GS; Rosie Allison - GS, GA; Shaunagh Craig - GS, GA; Lauren Dent - GA, GS; Yasmin Parsons - C, WA; Amanda Trounce - WA, C; Jazz Scott - WA, C; Mia Ritchie - C, WA; Serena Guthrie (captain) - WD, C; Scarlett Williams - WD, C; Stacey Francis (vice-captain) - GK, GD, WD; Ursula Bowers - GK, GD; Jenna Murie - GD, WD, GK; Sophie Masterson - GK, GD; Summer Artman - GK, GD