Audi sack Formula E's Daniel Abt for esports driver impersonation
Last updated on .From the section Motorsport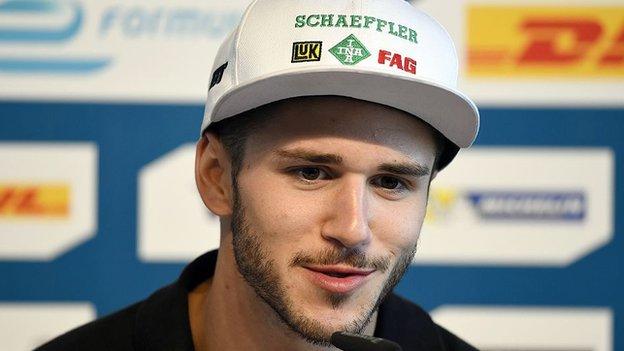 Audi have fired Formula E racer Daniel Abt after a professional gamer played under his name in an esports version of the series.
Abt, 27, had admitted the deception in Saturday's Formula E Race at Home Challenge Series, saying he had not taken it "as seriously as I should".
"Today I was informed in conversation with Audi that our ways will split from now on," Abt said.
"We won't be racing together in Formula E any more."
He added: "It is a pain that I have never felt in this way in my life."
The Audi Sport Abt Schaeffler driver had been competing in Formula E since the sport's inaugural season in 2014.
His third-place finish in Saturday's Race at Home event had raised suspicions among fellow competitors after he had failed to score a single point in the previous four rounds of the esports series.
A video feed of all of the drivers is available throughout the race, but Abt's face was obscured. It was later revealed that professional gamer Lorenz Horzing had been behind the virtual wheel.
The German was fined 10,000 euros (£8,890) before Audi initially suspended him, saying: "Integrity, transparency and consistent compliance with applicable rules are top priorities."
But later on Tuesday, Abt confirmed his permanent departure in an emotional video on social media.
"I want to apologise to my family, my friends, Audi, my partners, Formula E, Unicef and all the fans who have supported me over the years, with all my heart - I made a huge mistake," he said.
"I stand by this mistake. I accept it and I will carry all the consequences - it is my responsibility."
Analysis
Matt Warwick, BBC Sport
When does a videogame stop being a bit of fun and become considered a proper sport? When there's money involved.
Formula E's Race At Home Challenge is an eracing version of the 'real life' sport which raises money for charity and involves many of the sponsors from the day job.
Daniel Abt has driven in Formula E since it began in 2014, with two race wins to his name during that time, but he is often beaten by team-mate Lucas di Grassi.
Audi are said to be furious, but parting company with the German driver will have been a move complicated by the fact his wealthy family performance car-tuning company is involved in running the Audi Sport Abt Schaeffler team.
Abt's deception will have initiated some awkward conversations throughout the team's hierarchy which, despite having more negotiating power than most in this position, cost him his drive.