Cal Crutchlow sixth quickest at German Grand Prix despite leg break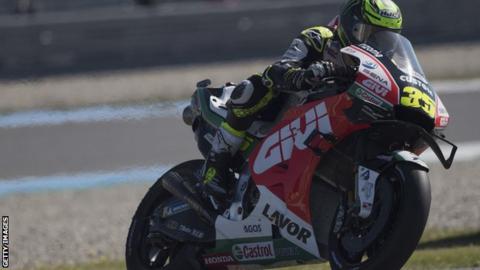 British MotoGP rider Cal Crutchlow was sixth fastest in practice for the German Grand Prix - two days after breaking his leg while out cycling.
The 33-year-old fractured his tibia and damaged knee ligaments in the incident on Wednesday.
"Honestly speaking, it [the injury] wasn't too bad, I expected it to be worse," he said.
"I can bend my knee how I want to go round corners, and I didn't feel it too much."
Crutchlow suffered a serious injury in October 2018, breaking his ankle during practice for the Australian Grand Prix.
On the cycling incident, he said: "I'm heading into the weekend with a bit of an injury to my right leg as when I was out training on my bicycle, I slipped while I was off the bike checking something and hit my knee.
"There's small damage to one of the ligaments, which we think is the ACL.
"The swelling has built up again, but I'm not allowed to get it drained as it's now the race weekend. It's blood that's in the knee, so I'm trying to ice it and get the fluid out of the joint."