BTCC: Carrickfergus driver Chris Smiley secures return with BTC Racing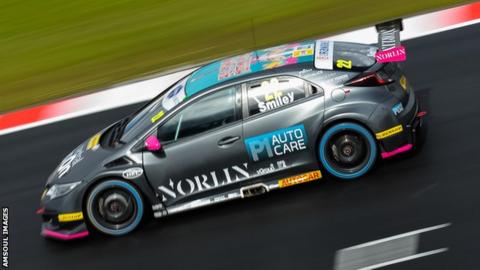 Carrickfergus driver Chris Smiley has confirmed his return to the British Touring Car Championship for 2019.
Smiley will return for his third full season in the series, driving for BTC Racing.
The 26-year-old won his maiden BTCC race last season, taking an impressive victory at Rockingham.
"I'm focusing on the Independent Drivers' Championship this year as well as supporting all the team at BTC Racing," said Smiley.
Last season, Smiley established himself as a regular top 10 finisher in a Honda Civic, securing his first podium at Donington Park before claiming a breakthrough race win at Rockingham Motor Speedway in August.
The former MINI Challenge champion finished the 2018 season in 13th overall, sixth in the Independent Drivers' Championship, and second in the Jack Sears Trophy, in which Honda works driver Dan Cammish took the honours.
"I am over the moon to be back with BTC Racing," said Smiley, "I was there from the start, and I look forward to continuing my BTCC campaign with the team.
"I have never been happy to make up numbers. I made great strides in 2018 so this year will only be a success for me if I collect more wins and challenge for the Independent Championship."
Team Manager Zoe Timbrell added: "We are so pleased that we have been able to keep Chris with us for a third year. His ambitions match those of BTC Racing perfectly."
In addition to Smiley's return, BTC Racing have announced brand new facilities in the heart of 'Motorsport Valley', with the new race shop in Brackley.