Isle of Man TT 2018: Injured Steve Mercer thanks fans for support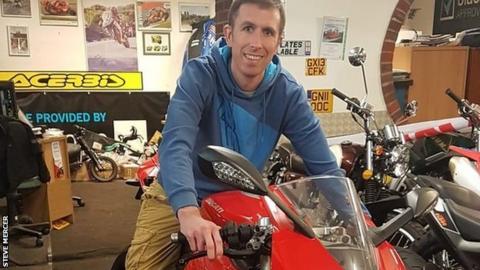 A TT racer from Kent has thanked people for their support, six months after he was critically injured by a course car at the Isle of Man event.
Steve Mercer was hit head-on by the car after being instructed to ride back along the course to the paddock following an accident in which local racer Dan Kneen died on 30 May.
Organisers ACU events confirmed an independent investigation was ongoing.
On Facebook, Mercer was pictured on a bike for the first time since.
"Six months ago - I was hit head-on by an Isle of Man TT course car that was travelling at over 100mph and somehow lived to tell the tale," he said.
"Thank you to everyone who's supporting me and to my angels for another chance."
The car was travelling at speed towards the scene of Kneen's accident at Churchtown.
Following the incident the Auto Cycle Union said the inquiry, which is being led by the former head of the UK Motor Sport Association Rob Jones, was "vital" and immediately changed the event's red-flag rules.
Mercer suffered multiple injuries in the incident, including a broken back and fractured larynx. The car's driver was not injured.
Since making his debut in 2009, the 36-year-old from Maidstone has recorded 16 top-20 finishes at the TT and has lapped the course at more than 129mph.