Sophia Florsch: Formula 3 driver says 'I am going to come back'
Last updated on .From the section Motorsport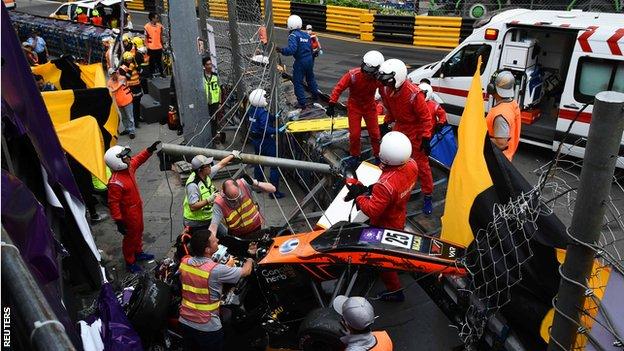 Formula 3 driver Sophia Florsch says she is "going to come back" after having an 11-hour operation on the fractured spine she sustained in a high-speed crash in Macau on Sunday.
Doctors used bone from the 17-year-old German driver's hip to repair one of her vertebrae in the surgery.
"I have to stay a few more days in Macau," said Florsch.
Her team principal said on Monday that the surgery went "extremely well" and there is "no fear of paralysis".
Florsch, who races for Van Amersfoort Racing, hit the back of Jehan Daruvala's car on lap four of the F3 Macau Grand Prix, then launched over the inside kerb into the car of Sho Tsuboi. That impact catapulted her car over the barrier and into an area occupied by marshals and photographers.
Team owner Frits van Amersfoort estimated she was travelling at 276kmh (171.6mph).
"I want to thank all of my fans for every single get-well wishes, which I now start reading," Florsch added on Facebook.
"This really motivates me and gives me courage. My thoughts are also with everyone who was involved in the accident. I hope everybody is healthy.
"At the accident were really nice people, which I still have in my mind. Thank you for all the encouraging, calming words in these tough minutes in my car.
"A real big thanks to the medical staff here in Macau for the friendly and professional treatment."