Sophia Florsch: Formula 3 driver fractures spine in Macau Grand Prix crash
Last updated on .From the section Motorsport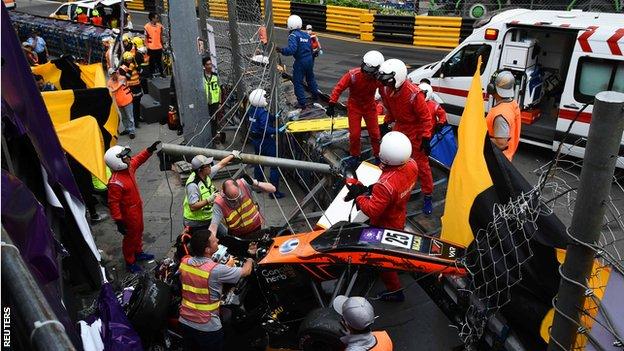 Formula 3 driver Sophia Florsch fractured her spine in a high-speed crash at the Macau Grand Prix in China.
The 17-year-old German's car lost control going into a bend before flying through the air and crashing backwards into a fence and photographers' bunker.
A statement from her team, Van Amersfoort Racing, said Florsch was conscious and in a stable condition.
"I am fine but will be going into surgery tomorrow morning," Florsch posted on social media on Sunday.
"Thanks to everybody for the supporting messages. Update soon."
Florsch hit the back of Jehan Daruvala's car on the high-speed run to Lisboa on lap four and then launched over the inside kerb into the car of Sho Tsuboi.
The speed-trap figure before the braking area showed that she was travelling at 171.6 mph [276.2 kph] at the time.
The impact with Tsuboi lifted her car over the barrier and into an area occupied by marshals and photographers.
Japanese driver Tsuboi was taken to hospital with back pain, while race organisers said two photographers and a marshal were also taken to hospital.
Photographer Minami Hiroyuki was taken in with concussion, while marshal Chan Cha In suffered a fractured facial bone and lacerations. The other photographer, Chan Weng Wang, had a liver laceration.
The race was immediately red-flagged before restarting an hour later.