Jonathan Rea: World Superbike champion on how to be a winner in sport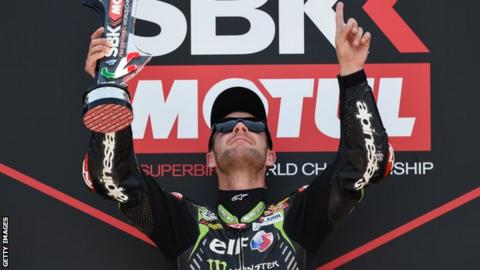 Knee-deep in nappies. Bereft of sleep. Starved of time to think.
You wouldn't think that starting a family would necessarily be helpful for an elite athlete - but, for one man at least, fatherhood went almost hand-in-tiny-hand with an unprecedented level of dominance.
Jonathan Rea has smashed records on his way to four consecutive World Superbike titles, which all came after the birth of his first child.
The 31-year-old - who secured his latest championship just days before the release of his autobiography - tells BBC Sport his secrets for hitting the road to success...
'As a parent, I started to like myself'
Rea had won 'just' 11 races before the birth of his first son Jake at the end of the 2013 season. Since then he has had a second son, Tyler, and won four back-to-back world championships. Coincidence?
"I can imagine it being every team manager's worst nightmare when an athlete says: 'I'm going to have a kid.' But having a family has really helped me. My wife Tatia and my two sons Jake and Tyler give me the distraction to get away from the stresses and strains of racing. It has really changed me for the better.
"Before I had kids, if I lost a race it would play on my mind all week because I had so much time. I would get home from a race, I would over-train, I would be even stricter with my diet and all these setbacks would make me even more determined to succeed.
"I wouldn't say I had an eating disorder but I stood on the scales every morning and if I didn't like what I saw, I would be unhappy. But it was undoing all the good work that had been done.
"It's the worst advice you could ever give anyone - but the less you get hung up on things, and care about things, the better it will get. I was coming from a really strict mindset, over-analysing and over-training and I was in a bad place.
"When you have kids, you don't have time. You have to set time aside to do your structured training. It made me less edgy as an athlete - more relaxed.
"As a parent, I started to actually like myself. I learned to be at ease with myself. I was never self-loathing or anything but after a race weekend I would start to look into why it's not happening. I was selfish before I had a family of my own, 100%.
"I moved away from home when I was 18 and almost lost contact with my family, I was so focused on what I wanted to do. Now, when you've got two little mouths to feed and a wife to support and to make sure she's fine, that she's got everything together, it really splits your focus. In a good way.
"I had my first son at the end of 2013. I broke my femur two weeks before Jake was born. It was my dream to carry my son out of hospital and the German doctor who fixed my femur up had screwed it up pretty well so I was able to do that. Since then we have never looked back."
Be addicted to winning...but don't force the 'wave' to come
Rea has won 54 races in the past four title-winning seasons, and finished in the top three in 91 of the 102 races in that time. He's not bored with success yet and admits he is "addicted" to the feeling...
"I can reel off every race I've ever won in my career - it's all about that feeling you have. Winning is winning, it never changes. Each and every one is as special as the other.
"People always ask me what's my favourite win but whether I win a race by a thousandth of a second or by 10 seconds, they are all special.
"Inside a closed helmet with earplugs in, it's a cosy environment and when you come out of the last corner as the first guy to see the chequered flag, that feeling is unbelievable. But it lasts, for me, not very long.
"It wears off on that slow down lap. I'm soon back to normal.
"I'm pretty good now when I don't win. In the past I was always forcing a win to happen. The best advice I ever got was that winning in sport is like surfing.
"You can't force it to happen, but when your wave comes you have to be ready to surf it. I was one of these guys that kept trying to force the waves to come. Now I am more rounded and balanced as a person."
'Find the perfect environment to thrive'
As well as having his first child, Rea's other big change before his dominant spell was a move to the Kawasaki team for the 2014 season. Rea is backed by a total of 40 staff, ranging from physios to a riding coach - former World Supersport champion Fabien Foret.
"I have the fear of losing. I'm at the top now so the only way is down. Unless I invest in myself moving forward I'm going to get beaten.
"I believe I train better and smarter than anyone. We have a human performance manager at Kawasaki, we are regularly blood tested and looked after, we try to be as healthy as possible and stay clear of illnesses.
"It's about marginal gains. I came from a team before when I would turn up for a race meeting and that would be the first time I had spoken to the team manager since the last one.
"Now we are in contact all the time from a physical and emotional point of view, they are always trying to make inputs at the right time. It's a perfect environment to thrive.
"I train for 15 hours a week, and when I go to the body lab in Barcelona for aerobic fitness testing, my results can be compared to La Liga players.
"You have to be really fit, more so to have the mental capacity to deal with situations in fractions of a second.
"I don't hate any of my rivals. I try to respect them as much as possible but I know what's at stake here. It's a world championship, everyone wants it and there's a lot of money involved.
"Only one can win it, so you can't be happy for these guys. You can't be friends with these guys, there is too much on the line."