Antonio Giovinazzi: Italian to partner Kimi Raikkonen at Sauber next season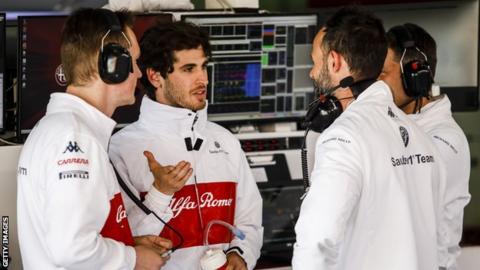 Sauber have signed Italian Antonio Giovinazzi to partner Kimi Raikkonen next season.
The 24-year-old has been placed at the Swiss team by Ferrari, as he is a member of their young driver programme.
The move means Swede Marcus Ericsson loses his race seat but will become Sauber's third driver.
Giovinazzi, who raced twice for Sauber at the start of 2017 as a stand-in for Pascal Wehrlein, said the move was "a dream come true" and "huge honour".
His promotion underlines the close relationship between Sauber and Ferrari, whose sister brand Alfa Romeo sponsors Sauber.
Team boss Frederic Vasseur said Giovinazzi has "proven to have great potential".
Ericsson's demotion from a race seat comes despite the position of his mentor Finn Rausing, a Swedish billionaire, as a major shareholder in Sauber.
The 28-year-old has been comprehensively out-performed this season by rookie team-mate Charles Leclerc, 20, who has earned a promotion to Ferrari in place of Raikkonen to partner Sebastian Vettel next season.