Manx Grand Prix 2018: Matt Stevenson wins Senior GP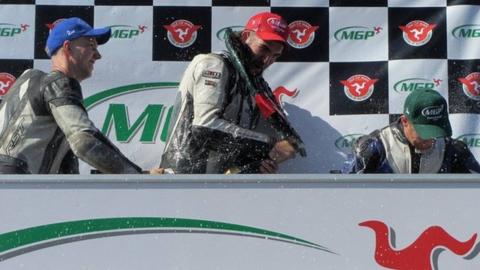 Yorkshire racer Matt Stevenson won a thrilling four-lap Senior Manx Grand Prix after a race-long battle with Stephen Parsons.
The 24-year-old from Ripon overcame long-time leader Parsons from Kendal to win the four-lap race by 5.1 secs, with Wakefield's Steven Proctor third.
Stevenson overcame a 10-second pit penalty earlier in the race.
He said: "I can't believe it. To win the Senior in my second year is an absolute dream come true for me."
The penalty was imposed for having his engine running in the pit lane while refuelling his Yamaha machine.
Earlier in the week, Stevenson was on course to break Michael Evans' 2017 Junior lap record of 120.619mph, but crashed at Creg-ny-Baa.
Runner-up Parsons said: "I can't ask for more really. Matt should have won the Junior by a mile. He deserved the win."
Event newcomer Mike Browne from Killeagh in Ireland claimed a remarkable fourth place, and Andrew Farrell and James Chawke completed the top six.
Several riders lapped at more than 120mph during the event's main race including winner Stevenson.