North West 200 winner Paul Robinson set to retire from road racing
Last updated on .From the section Motorsport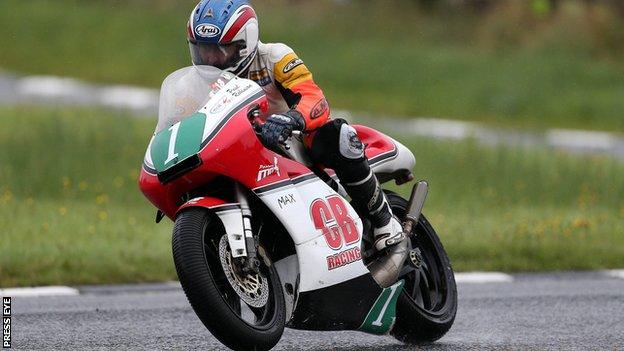 North West 200 and Ulster Grand Prix winner Paul Robinson is set to quit road racing.
Robinson, whose cousin William Dunlop was killed in a crash at the Skerries 100 in July, said he will retire after September's race at Killalane.
The 43-year-old Ballymoney rider's father, Mervyn, died after an accident at the North West 200 in 1980.
Speaking to the News Letter, Robinson said he had made the decision for the sake of his five-year-old son.
"I've had a long career and I've been thinking that I don't want to leave my wee boy the way I was left," he said.
He added: "I don't want him being in a situation where he would be asking what life would have been like if I hadn't raced."
Robinson won the Ultra Lightweight title at the 2017 Ulster Grand Prix, 42 years after his father's only UGP success.
He had previously secured 125cc victory at the North West 200 in 2010 and also won 125cc races at British championship level, finishing second and third overall in 2000 and 2001.