British Grand Prix: MotoGP boss blames new Silverstone track for cancellation
Last updated on .From the section Motorsport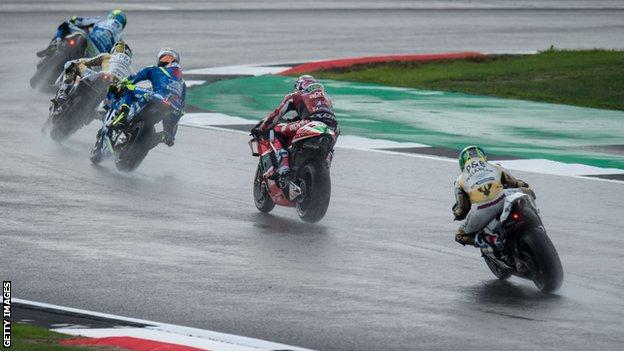 Sunday's British GP at Silverstone was cancelled as "a direct result" of a new track surface laid in February, MotoGP race director Mike Webb has claimed.
The race, scheduled for 11:30 BST, was called off just after 16:00 because of heavy rain and standing water.
"We've had a number of years' experience here in very wet conditions recently with the old surface and have been able to run races," Webb said.
Silverstone's management says a full investigation will be launched.
The circuit's managing director, Stuart Pringle, added: "All the work we have done here to make Silverstone a better place for motorcycle racing has been done with the best of intentions.
"We will be making further investigations into this matter immediately after the Bank Holiday to understand whether our newly resurfaced track played a part in today's inability to stage races.
"We will be reviewing all the data we have on the track and gathering more, and together with the contractor, Aggregate Industries, a full investigation will be carried out."
The start time of Sunday's race had been brought forward by 90 minutes to 11:30 because of a forecast of heavy rain, but after several hours of delays the decision was finally taken to cancel. MotoGP also confirmed that there was "no option" to hold the race on Monday.
Webb added: "This year, with the new surface, is the first time we've encountered quite so much standing water in critical places on the track. So yes, it's a direct result of the track surface.
"The staff have done an unbelievable effort over the whole weekend to try to make the track safe and until the last minute they were still working, but unfortunately we couldn't battle nature.
"We obviously want to have a British Grand Prix. The climate of the area means we've got to expect rain and the surface has to be able to handle it."
Spain's Jorge Lorenzo was set to start on pole at the Northamptonshire track after beating fellow Ducati rider Andrea Dovizioso, of Italy, by 0.015 seconds in qualifying.
However, the race was then delayed for safety reasons as heavy rain fell 10 minutes before the revised start time after the riders had completed their sighting lap, before it was cancelled.
"I am truly sorry this has happened," added Pringle. "If I had known fans would have to wait for six hours in these conditions with this outcome, I would have taken the decision to cancel the event at midday.
"We were willing to cancel the meeting much earlier but I was assured by [MotoGP organisers] Dorna that the teams were willing to race if conditions improved.
"I'm very conscious of the amount of money people have spent on this event. We will be contacting all customers next week to explain what we are doing about the cancellation of this event."
The cancellation came after a fraught day on Saturday, with Tito Rabat suffering a broken leg during the fourth free practice session.
Spain's Rabat, who had come off his Avintia Ducati in heavy rain, was walking away in the gravel at Stowe corner when he was hit by Italian Franco Morbidelli's bike.
Rabat had surgery at the University Hospital of Coventry, with his team later confirming "fractures of right femur, tibia and fibula have been fixed".
"It has been a long, unusual, tiring day that we hope won't happen again," said championship leader Marc Marquez.
"I think the race direction has to be thanked; they listened, and in the end, safety was everybody's main consideration. One of us riders is in hospital already. Sometimes we must keep a cool head and think."