TT 2018: Investigation launched into Steve Mercer crash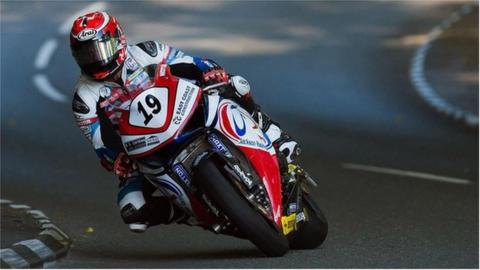 An independent investigation has been launched into a collision between a TT rider and a course car at this year's event, organisers have confirmed.
The incident occurred after Steve Mercer was instructed to ride back along the course to the paddock following an earlier incident on 30 May in which Manx racer Dan Kneen died.
The course car was en route to the Churchtown scene of Kneen's accident.
Mercer, 36 and of Maidstone, remains seriously ill in a Liverpool hospital.
His wife Caroline said they will "no longer be sending out updates on his condition whilst investigations in the UK and on island are ongoing".
She said on her Facebook page "Given the tragic circumstances of the accident, there are a number of formal enquiries by many different authorities and agencies - both on the Isle of Man and here in the UK.
"So that those enquiries can proceed without distraction, in accordance with legal advice taken, we regret that we will not able to post progress reports at this stage.
"Please be reassured that we are forced to take this step to ensure that justice is served; not only for Steve but for the great deal of many other people touched by this very tragic event. Normal updates will resume as soon as we are permitted to post again.
"On behalf of Steve, we would like to thank all the hundreds of generous and thoughtful well-wishers, family and friends."
An Auto Cycle Union (ACU) spokesman said the inquiry was "vital" and would be led by lawyer and the former head of the UK Motor Sport Association Rob Jones.
ACU events chairman Brian Liggins said: "Our thoughts and best wishes remain with Steve and his family at this difficult time.
"We feel it is vital the right lessons are not only learnt but acted upon to ensure the highest possible safety standards at future events."
Kent racer Mercer was representing the Jackson Racing team at TT 2018, having previously announced his retirement following a crash at last year's races.
He has already undergone surgery on his leg and pelvis. His injuries include a broken heel, T12 vertebrae, and fractured larynx.
Organisers said the car's driver was not injured.
Changers to the event's red-flag rules were made with immediate effect.