TT 2018: Racer Steve Mercer 'stable after TT car crash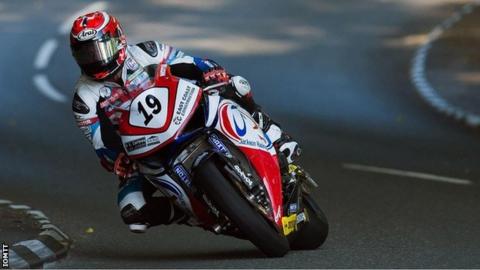 TT rider Steve Mercer's condition has been described as "stable" as he continues his recovery from a collision with a car on the Mountain Course.
The Kent racer was instructed to ride back along the course to the paddock following an earlier incident on 30 May in which Manx racer Dan Kneen died.
He was making his way back when he collided with the car near Ballacrye.
Organisers ACU Events Ltd are investigating the incident with Mercer remaining in hospital in Liverpool.
His wife Caroline said the 36-year-old is currently "unable to breathe unaided" but that doctors are "hopeful he may be able to try soon."
He has already undergone surgery on his leg and pelvis and his injuries include a broken heel, T12 vertebrae, and fractured larynx.
Mercer was representing the Jackson Racing team at TT 2018 having previously announced his retirement following a crash at last year's races.
Since making his debut in 2009, the Maidstone rider has recorded 16 top-20 finishes at the TT and has lapped the course at more than 129mph.
Organisers said the car's driver was not injured and announced changes the event's red-flag rules to begin with immediate effect.
Michael Dunlop won the opening Superbike TT race on Saturday with Ben and Tom Birchall winning the sidecar event.