Isle of Man TT 2018: Ben and Tom Birchall win sidecar race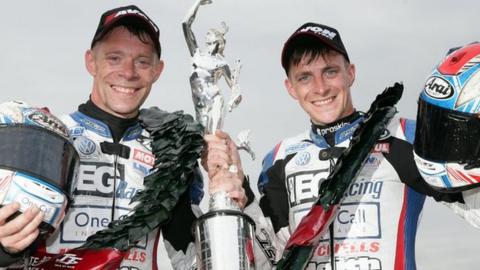 Brothers Ben and Tom Birchall added to their mounting tally of sidecar wins at the Isle of Man TT at the weekend.
The former world champions from Mansfield broke their own lap record on every lap to win their fourth consecutive race on the island.
The duo led from start to finish to claim a 47.1-second winning margin over John Holden and Lee Cain in the three-lap race.
Ben said his brother's performance was "incredible" and "faultless".
The race record win was not without incident after what Ben described as a "big incident" on the Mountain Section of the course.
He said: "We had a bit of a moment at Windy Corner - I'm blaming the wind."
Tim Reeves and Mark Wilkes completed the podium in third.
Manx duo Dave Molyneux and Daniel Sayle retired from the race while in sixth.
The race was restarted following a red-flag incident on the first lap involving Tony Baker and Fiona Baker-Holden.
The pair were taken to Noble's Hospital by helicopter with Baker reported to have suffered a broken leg and Baker-Holden soft tissue injuries.
The second sidecar TT race is on Friday.