Isle of Man TT: Dan Kneen's father makes emotional tribute after son's death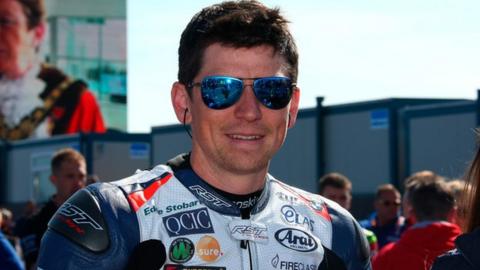 Tributes have poured in for Manx rider, Dan Kneen who died during Superbike qualifying at the Isle of Man TT.
The 30-year-old from Onchan sustained fatal injuries at the Churchtown section at 18:30 BST on Wednesday.
Kneen was riding for the Northern Ireland based Tyco BMW team at major international road races this season in the Superbike and Superstock classes.
His father, Richard Kneen said: "Dan lived for his racing, wild horses wouldn't have torn him away from it."
In a Facebook post on Thursday morning he added: "Dan would want us to be strong and for the team to crack on, they have my full backing.
"Let's think of the happy times with Dan and smile when you think of him. Best wishes for all the other competitors, the TT will go on.
"RIP my son Daniel Richard Kneen from Dad".
TT blogger Samantha Wanless described Kneen as a "proud Manxman".
"The entire road racing community is heartbroken and numb as is the entirety of the Isle of Man," she said.
"Teaming up with Tyco BMW saw Dan flourish. He was setting quick lap times, he seemed comfortable on the bike and everyone was talking about how 'he's on for a podium with laps like that'.
"The memories, the legacy - they all live on even through the heartache".
Kneen, who made his debut on the TT Mountain course 10 years ago, set his fastest-ever lap of the same circuit on Tuesday night at 132.258mph, to lie third fastest in qualifying for the Superbike event.