World Rally Championship: Kris Meeke loses Citroen drive because of crashes
Last updated on .From the section Motorsport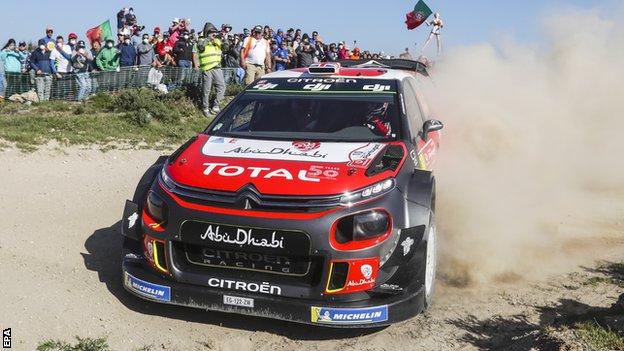 Northern Ireland driver Kris Meeke has been dropped from Citroen's World Rally Championship team because of "an excessively high number of crashes".
Meeke's latest crash in this year's series saw his car roll down a bank at Rally Portugal on Saturday.
The Dungannon man, 38, suffered back pain and was taken to hospital for checks after crashing into trees.
A Citroen statement said the crashes "could have had serious consequences with regard to the crew's safety".
Meeke appeared to have little forewarning of Citroen's announcement as an hour earlier he spoke on Facebook about "looking forward" to Rally Sardinia in two weeks time.
Since joining Citroen in 2013, Meeke has won five World Rally Championship events but his stint with the French time has been badly affected by a series of crashes.
He almost squandered victory in Mexico last year as he slid off the road into a car park in the final kilometre of the event before getting back on course to win but further mishaps saw him being dropped for Rally Poland later in the summer.
Meeke regrouped to win Rally Catalunya later in 2017 but his best finish this season is a third in Mexico when what he described as a "stupid" late mistake ended his chances of catching eventual winner Sebastien Ogier.
Thursday's Citroen press release said that some of the crashes were "particularly heavy".
"Given that the risks involved were unjustified by the sporting stakes at play, Citroen Racing WRT has decided to terminate the participation of Kris Meeke and Paul Nagle in the 2018 WRC," it read.
"The decision becomes effective from the 2018 Rally Italia Sardegna and we will shortly be announcing the team's line-up of crews for the remainder of the 2018 season.
"This wasn't an easy decision to make because it affects a driver and a co-driver, but it is largely founded on safety issues which come under my preoccupations as Team Principal. We have consequently chosen to make this decision as a preventive measure," said team principal Pierre Budar.
Meeke is lying eighth in this year's championship standings on 43 points, with his sole podium for the season having come in Mexico.