North West 200: Seeley extends record and Irwin wins Superbike double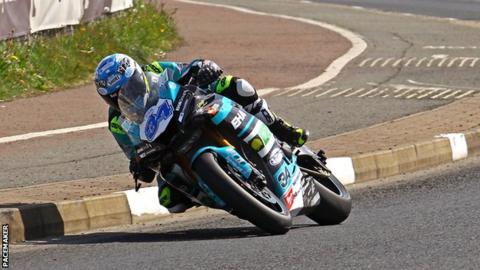 Alastair Seeley extended his record tally of North West 200 victories to 24 while Glenn Irwin won both Superbike races at Saturday's North West 200.
Seeley, 38, claimed the Supersport and Superstock events and fellow Carrickfergus rider Irwin, 28, led from start to finish in the two Superbikes.
In the Supertwin class, there was a maiden NW200 victory for 26-year-old Yorkshire man James Cowton.
Seeley won the Robert Dunlop award for man of the meeting.
Relive Saturday's North West 200 action
Former British champion Seeley secured his second Supersport win of the 2018 meet with a dominant performance in Saturday's first race.
The 'Wee Wizard' controlled the six-lap contest despite briefly losing his lead to Yorkshire's Dean Harrison at the start of the race.
However, he pulled away to secure a 23rd win at the NW200, setting a lap record on the final circuit.
Seeley's success set the tone for the local riders as British Superbike star Irwin claimed a dominant victory in the first Superbike race of the day.
The Ducati rider, a 2017 Superbike winner, led from start to finish to take the chequered flag in imposing style.
Cowton's first NW200 win in the Supertwins came courtesy of a stunning pass at the Juniper chicane in the final lap.
Jeremy McWilliams secured his second podium finish of the 2018 meet, coming in ahead of Joey Thompson who was left disappointed having controlled large parts of the race.
In the penultimate race of the day Seeley made it a hat-trick of wins for the week as he reversed the result of Thursday night's Superstock race by passing BMW rider Peter Hickman on the final lap.
The second Superbike race was halted during the first lap when a rider crashed at Ballysally.
He was taken to hospital with injuries which organisers reported as not serious.
On the restart, Irwin again raced to the front and led from start to finish to complete an impressive double.
BetMcLean.com Supersport
1. Alastair Seeley
Yamaha
115.906mph
2. James Hillier
Kawasaki
115.520
3. Lee Johnston
Honda
115.501
4. Dean Harrison
Kawasaki
115.482
5. Michael Dunlop
Honda
115.477
6. Martin Jessopp
Triumph
115.538
Anchor Bar Superbike
1. Glenn Irwin
Ducati
121.681mph
2. Dean Harrison
Kawasaki
121.615
3. Michael Rutter
BMW
121.475
4. Lee Johnston
Honda
121.274
5. Alastair Seeley
BMW
121.213
6. Conor Cummins
Honda
120.578
John M Paterson Supertwin
1. James Cowton
Kawasaki
108.077mph
2. Jeremy McWilliams
Kawasaki
108.022
3. Joey Thompson
Paton
107.944
4. Christian Elkin
Kawasaki
106.487
5. Michael Sweeney
Kawasaki
104.859
6. Victor Lopez
Kawasaki
103.757
CP Hire Superstock
1. Alastair Seeley
BMW
121.131mph
2. Peter Hickman
BMW
121.117
3. Dean Harrison
Kawasaki
121.015
4. Michael Dunlop
BMW
121.000
5. Gary Johnson
Kawasaki
120.922
6. Dan Kneen
BMW
120.219
Merrow Hotel & Spa NW200 Superbike
1. Glenn Irwin
Ducati
122.323mph
2. Michael Dunlop
BMW
121.665
3. Lee Johnston
Honda
121.653
4. Martin Jessopp
BMW
121.641
5. Conor Cummins
Honda
121.620
6. Dean Harrison
Kawasaki
121.522