North West 200: William Dunlop withdraws from Saturday racing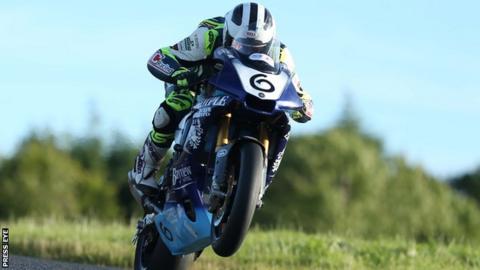 Temple Golf Club Yamaha rider William Dunlop has withdrawn from Saturday's races at the North West 200.
The Ballymoney man sustained heavy bruising to his back following a crash during Thursday's Superstock race.
"We have made big steps forward with the Superbike and I am disappointed I won't have the chance to ride it," said Dunlop.
A medical examination showed that the rider did not break any bones in the fall.
Dunlop, 32, highsided from his Yamaha R1 at Church Corner.
He had qualified in eighth position for Saturday's Superbike events and was also due to compete in the Supersport and Superstock races.
"The team are gutted not to be taking any further part in this year's North West 200 but our rider's welfare must come first," said team owner Tim Martin.
Dunlop's younger brother Michael claimed third on Thursday's Superstock race which was won by Peter Hickman.
On Wednesday evening, a commemorative lap around the famous course was held in honour of William and Michael's father Robert, on the 10th anniversary of his death at the North West.