Ian Hutchinson: This is why TT riders are not like normal people
Last updated on .From the section Motorsport188
Warning: This story contains some graphic images
A blur. Impact. Shock. A familiar crumple of leather and bone. And then panic.
Ian Hutchinson, with a mantelpiece full of trophies but a body full of pain, is back lying in the middle of the road.
He doesn't know why he's crashed, but he knows that his leg is badly broken. Again.
Ian Hutchinson, with 30 major operations already behind him and with 50 hours on the operating table already in the tank, knows he's now got more to come.
But first he's got to get out of the way.
Ian Hutchinson, who came close to having a foot amputated after a 2010 crash which shattered the same leg which is now twisted at a sickening angle, has just seconds before the next motorbike racing the famous Isle of Man TT course comes past at over 100mph.
He levers himself to the roadside despite having a visibly shattered femur, narrowly avoiding the fast arriving Norton of Dave Johnson.
His storied career could have been ended on that sunny Isle of Man afternoon. But instead, after another gruelling year of recovery and rehab, Hutchison will go for a 17th TT win this weekend.
Why?
Because, in his own words, "Life's made for a challenge, isn't it?"
'You're not amputating my foot! I need it'
To understand the full scale of Hutchinson's personal ride through the peaks and troughs of life as a road racer, we need to first rewind to the autumn of 2010. After six years of progress, the then 30-year-old was at the top of his game after becoming the first rider in history to win all five TT races in a single week.
He sold up, capitalising on the prize money to move into a dream house which needed major renovations - and within a few months he was in the same boat. A freak crash in the rain at Silverstone saw a fellow rider run over his leg, causing major damage which would rule out much of the next five years of Hutchinson's career.
"It was high-energy open fracture, it came out of the skin," he says. "My leg was in a million bits.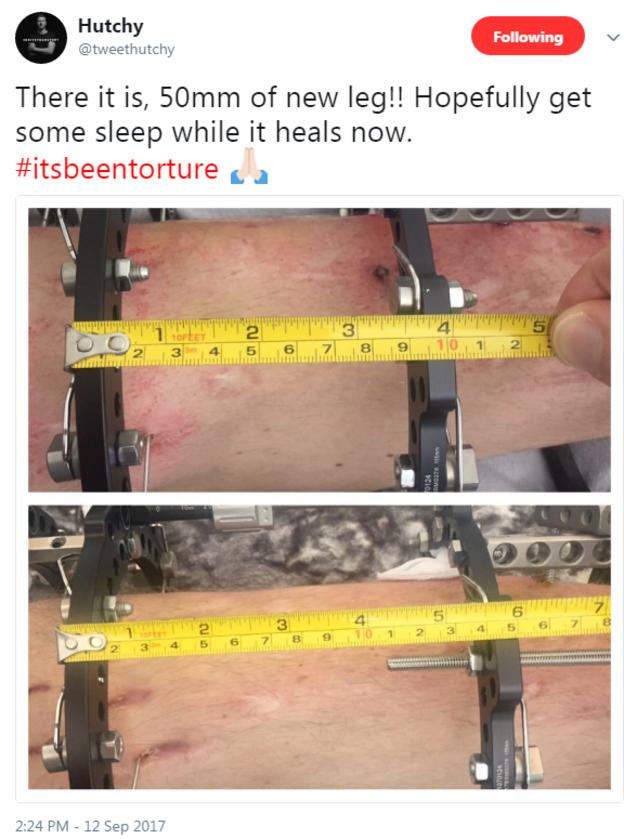 "When it first happens you don't have any pain, you are in shock. I looked down and could see bones sticking out the back of my leathers and my leg just dangling down. Then you panic.
"The three arteries feeding my foot with blood weren't working. So they were going to amputate my foot. My foot was dead.
"They were showing me my foot and it was purple but I didn't know what they were on about, I just kept saying 'you're not taking it off. I'll never ride a bike again.'"
Hutchinson's persistence won out - not for the first time in this story - and his foot was saved. Enter surgeon Matija Krkovic, who attached a metal cage - a Taylor spatial frame - around Hutchinson's mangled leg and started the slow, painful process of rebuilding his tibia. Or to be more accurate, regrowing it from scratch.
The cage holds bone fragments in place with wires through the skin which are then turned every six hours, forcing the bone apart and promoting new bone to grow. Each day brings growth of 1mm. Each cm of new bone then takes a further month to consolidate.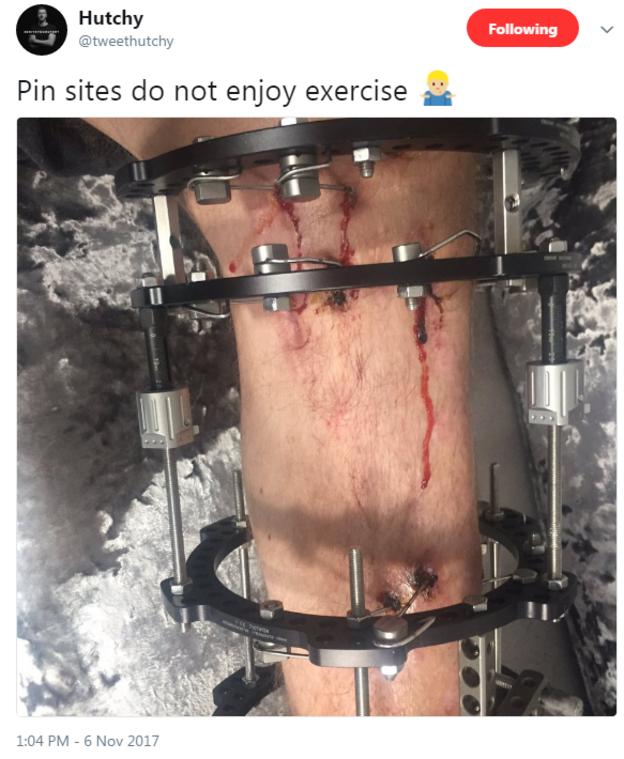 In three separate sessions since his 2010 accident Hutchinson has now grown 210mm of new bone in his left leg. Over eight inches.
"At the start with the cage on it's horrible," says Hutchinson, who has now spent 1,200 days since the autumn of 2010 with the contraption on his leg. "You can't sleep. You're up all night on morphine, you're drowsy all day.
"I'd just peaked in my career in 2010, everything was going so well. I'd been putting everything into racing for so long and I'd just got there and it was all taken away from me.
"The first time I did have doubts if I could carry on. I thought 'should I be really doing this?'"
'If you crash again it will pull your leg off'
The injury of 2010 started a period of almost three years of rebuilding for Hutchinson. He missed the 2011 season, had the cage removed and signed up to race in 2012 before breaking the leg again in an accident at a bike show when he slipped on a concrete floor.
He didn't know it at the time, but Hutchinson was approaching his lowest point of all.
"I slipped off a little kid's motocross bike," he said. "I didn't know the leg was broken again.
"I walked away, at that point I thought my leg was fixed for good. But I had the frame back on, they said it would be three months.
"That was the beginning of February 2012 and it should have been removed for the second time just in time for the TT that year. I went back on 30 April for an X-ray, expecting the frame to come off that day, and they said the bone was infected. It was weak and that is why it had broken.
"They told me they were going to have to remove a big piece of bone and start all over again. That was the lowest point, the closest I came to crying. They said it would be another 18 months to fix it."
It can take a rider years to learn the TT course, with each 37.7-mile lap containing 227 corners which carve a route through villages and across the Snaefell mountain, the riders hitting 200mph at parts - all on public roads.
It is an unforgiving place. Just this week local rider Dan Kneen became the 149th rider to lose their life in the event's 111-year history.
Having already missed the 2011 race, Hutchinson knew that missing 2012 could be the end of his career. So he decided to race anyway - despite his busted leg - postponing his next battle with the cage and covering his injury with a homemade cast that was thin enough to go under his leathers.
"I had to keep my eye in and race that year," he said. "The plaster cast was far too thick so I had some carbon fibre in the garage and made my own cast which was 2mm thick.
"I didn't tell anyone what had happened, I just told them that my leg was fixed. I couldn't tell anybody, I wouldn't have been able to race.
"Potentially that was stupid. I asked the surgeon if racing would cause any more damage and he said 'your leg is in such a mess anyway, if you crash it will pull it off.'
"I said 'if I crash at the TT my leg will be the least of my worries.'"
From being 'drugged out of my mind on morphine' to winning again
Hutchinson did not crash in 2012 - managing a top-six finish despite his problems - but came back with his leg in a 'horrendous' state. His tibia, weakened by infection, had bent in on itself by 26 degrees.
And so it was under the knife again, as surgeon Krkovic cut out the section which they had grown from scratch and restarted the process. Back into the cage, which would not be removed until September 2013.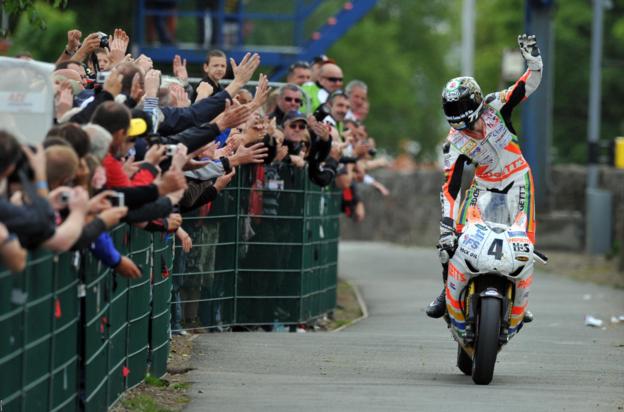 More pain, more gain, and with a newly-grown left leg once more, Hutchinson had a turning point when he won at the 2013 Macau Grand Prix, a victory which gave belief to not only him, but also teams and sponsors, that he could be a winner again.
Even then there was more disappointment as the 2014 season was written off, not through injury for once but a bike that Hutchinson could not get on with. But he was now fit to compete again - and in 2015 he finally ascended the mountain to win three races at the TT.
"Winning again felt amazing," he says.
"When I was coming up over the mountain knowing that I was going to win a TT I was thinking back to lying in a hospital bed in tatters, drugged out of my mind on morphine.
"All the work I'd gone through for that five years. I just thought 'I can't actually believe I'm going to win again'. It was really, really weird. The most emotional race ever."
It was no fluke - a year later Hutchinson broke the lap record in practice and went on to win three more races. He was once again at the very top of his game.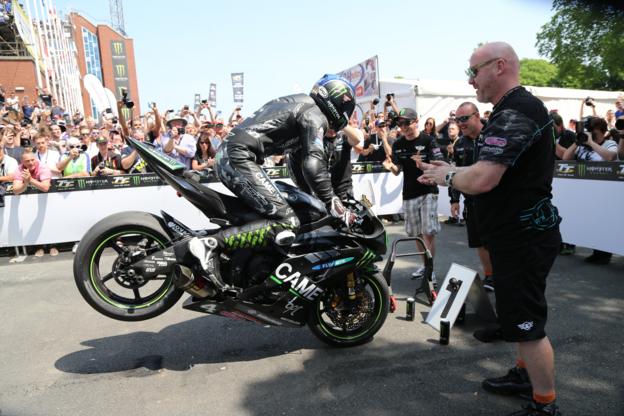 'I need ketamine, I need ketamine'
Hutchinson won two races at the 2017 TT to move to 16 wins overall and cement his place among the greatest road racers of all time. And then - the crash.
He was battling for the lead of the Senior TT when he lost control of his BMW and ploughed into the side of the road. A year on, he still doesn't know why he crashed, with some images suggesting he may have had a puncture.
After hitting the wall at over 100mph he was hit by his rebounding superbike, breaking his femur and smashing his ankle.
How did he find the strength to move out of the way?
"When you've been ridden over before you don't want it to happen again so I knew I had to get out of the road," he says.
"My leg was bent right out to the side, but I had to get out of the way, so I just dragged myself. The bikes would be coming in a few seconds and would be doing over 100mph there, which is pretty fast when you're sat on the floor.
"The first bike to come by was very close, if I hadn't have managed to move he would have hit me."
High up on the mountain roads of the Isle of Man, Hutchinson was in agony. Luckily a helicopter with medics on board arrived within six minutes of his accident.
"Some people have said that I must have a high pain threshold but it does hurt, it's not like I can't feel it!" he says.
"But there's no point in complaining or crying, it's not going to fix anything so just deal with it.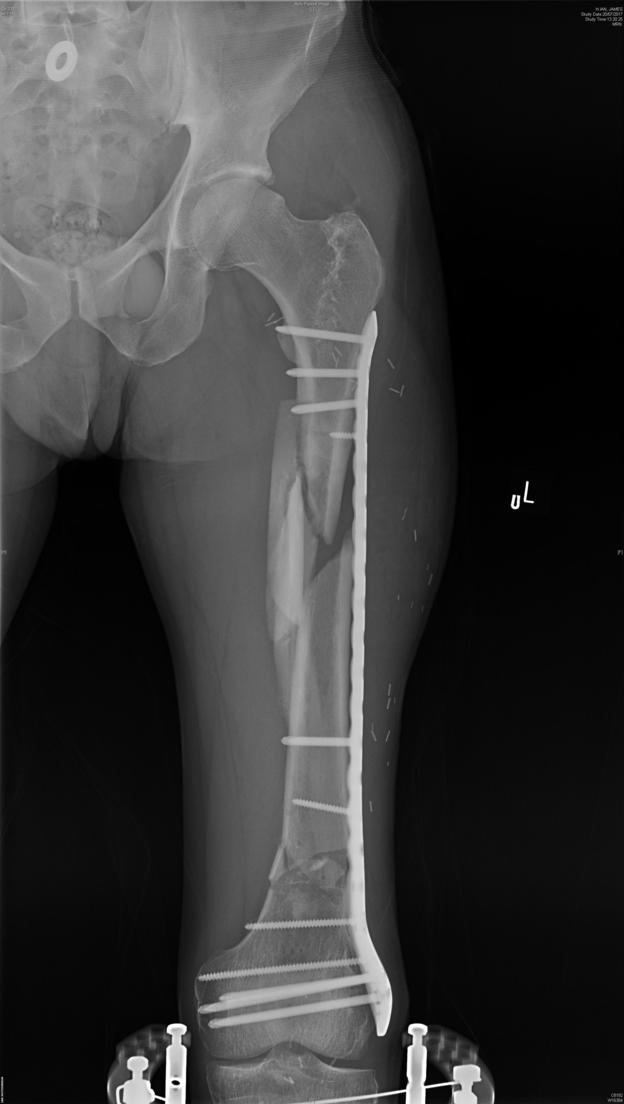 "When the medics came I kept saying 'I need ketamine, I need ketamine'. Eventually I passed out."
When he awoke in hospital in Liverpool there was a further surprise.
"When I came back from theatre my femur was the same as when I went in. They said we've never seen a bone smashed as bad and we don't know what to do.
"I said 'this is it this time, it's not fixable'. It didn't look like a bone any more, just fragments."
But after a phone call to Krkovic, Hutchinson had his femur plated and was transferred down to his old surgeon and friend, who set about cutting into his left tibia once again.
Because Krkovic had to remove the talus bone from inside Hutchinson's ankle - which had lost all blood supply in the accident and would subsequently die - his tibia had to be broken artificially so that it could be lengthened to make up the shortfall.
With Hutchinson also losing some of his femur in the crash, it means that his knees are now not at the same level.
'I know I can win again'
After years of surgery and pain, did he consider retirement this time? What do you think?
"As soon as I came round, I knew I wanted to make it back for the TT in 2018. That's all I was bothered about," he said.
"If I wasn't winning races then I wouldn't have pushed to get back. It's not racing that's addictive, it's success.
"I have won the same amount of TTs after my accident in 2010 as I had before. I haven't forgotten how to ride fast. I've been more successful on my comeback than I was before. It makes me know that I can do it again this time."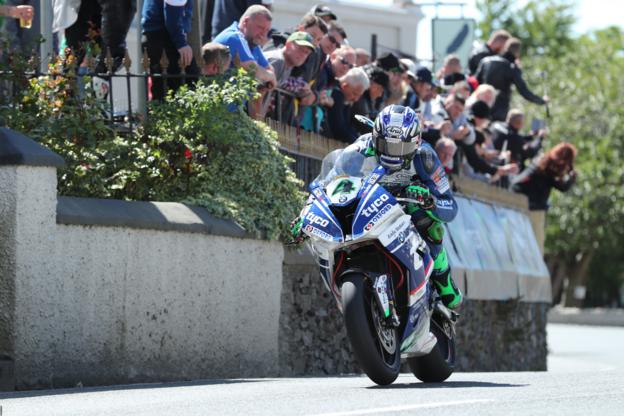 And so for the last year Hutchinson has battled through his familiar world of rehab and surgery, slowly growing bone in his same scarred left leg and edging closer to fitness week by week with a punishing, lonely gym schedule.
There was still time for one more dice with death, though, as on two occasions Hutchinson was hit by massive blood clots in his lungs.
"Your femur holds a lot of blood so when you break it, it quite often forms a clot which can go into your heart and lungs.
"They were so painful, it's like being stabbed. Bang, all of a sudden it's like a knife going in. Your lungs collapse.
"I was home alone the second time and it took an hour for the ambulance to come - I thought I was going to die."
But the great survivor is back on a bike. He had his latest cage removed last month and was able to race at the North West 200 just a matter of days later. He will again be one of the star names on display at the TT this week.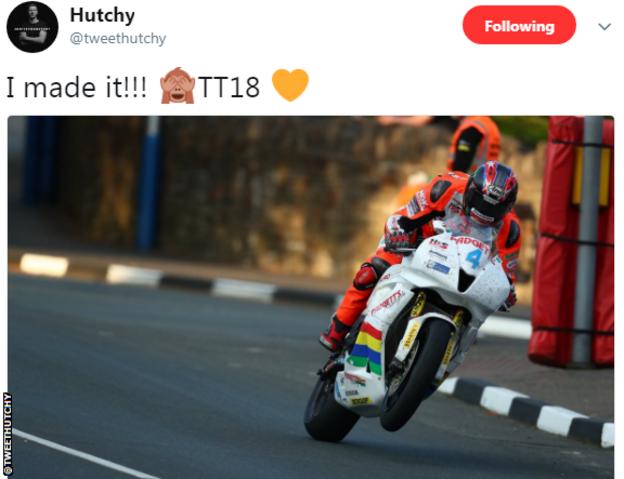 It's been quite the journey, but despite all his lows, Hutchinson is hoping for more highs to come.