Speedway celebrates 90 years in Scotland with Glasgow v Edinburgh clash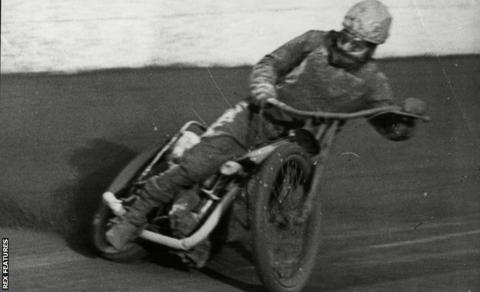 It has been 90 years since the high octane and unpredictable sport of speedway came to Scotland.
Imported from Australia in 1928, it hooked fans with its unforgettable smell, the revving of motorcycle engines and the spray of dirt as riders skidded into bends.
"It's certainly a spectacle - it's colourful, it's fast and you never know what's going to happen next," said Mike Hunter, the Edinburgh Monarchs' historical archivist.
"It's a great social and a great sporting occasion."
But it is not a spectacle for the faint-hearted - one gear, no brakes and racing speeds of 70mph.
Paramedics stand alert with only air barriers to cushion the impact should both rider and machine career into the sides.
It is perhaps this danger element that has thrilled spectators for decades; in the post-War era, crowds of more than 20,000 packed the terraces to watch dirt-track racing.
A record crowd came at a 1953 meeting at Motherwell, where 35,000 fans roared the Scottish team along against the Auld Enemy, England.
"It was looked on as a big business opportunity by those who staged the events," Hunter told BBC Scotland.
"A wide cross-section of society would go to speedway. It was often called a working man's sport and a family sport."
It all began in Scotland shortly after the sport arrived on UK shores, staged at Nelson Athletic Grounds in Glasgow in April 1928. An event was then held at Celtic Park before White City and Marine Gardens in Edinburgh became the main pre-War venues.
"After the initial enthusiasm it faded a wee bit in the mid-1930s and came back just before the War," Hunter said.
"But by far its biggest period was just after the War, when I suppose everybody was relieved all the troubles were over and looking to enjoy themselves; you used to get 20,000-plus crowds in those days."
While clubs like the Motherwell Eagles, Paisley Lions and Linlithgow Lightning have come and gone, two continue in the second tier in speedway's GB Championship.
'It can get quite heated at times'
This year, Edinburgh Monarchs celebrate their 70th anniversary, a milestone their rivals in the west, Glasgow Tigers, marked in 2016.
"People follow the teams in exactly the same way they do football, and the Monarchs and the Tigers have become very well established in Scotland and have a tremendous rivalry. It keeps everybody's interest high," said Hunter, who is also a Monarchs director.
"The thing that really made speedway popular was the team aspect; if it was just individuals racing round, I don't think it would have the same appeal.
Over the years, the two have raced at venues across the central belt including Coatbridge, Blantyre, Powderhall, the national football stadium at Hampden and even Workington in Cumbria, until settling in West Lothian at Armadale and in north Glasgow's Ashfield Stadium in the 1990s.
But like so many things, the sport become a casualty of modern life.
"[We] can't deny it's been declining from the 1950s onwards; television was a disaster for speedway as it's an evening sport," Hunter said.
"A lot of the fans that go have been going for a long time and now bring their family along, but it's difficult to persuade people who haven't seen it before."
While speedway has declined dramatically since its heyday, the rivalry between east and west has not been dampened.
Hunter says: "It can get quite heated at times, not on the terracing and never any fighting, but disagreements for sure and when you beat your local rival, you feel very good."
2018 season
That rivalry will be played out on the track under lights of Ashfield on Friday, as the Tigers open their season by hosting the first leg of the Scottish Cup, with the second a week later on Edinburgh's home turf.
A new-look and slightly more experienced Glasgow side is almost totally different from the last few seasons and their KO Cup-winning team led by Aaron Summers.
Captained by three-time British champion and 2007 Grand Prix winner Chris Harris, the Tigers hope this speedway heavyweight will help add some silverware to the cabinet and bring in fans.
And Lewis Kerr, who just three years ago was left fighting for his life after a crash left him in a coma, is now fully recovered to take his place in the team.
They will be joining fellow English riders James Sarjeant, Paul Starke and Jack Thomas, returning Tiger Richie Worrall and Denmark's Claus Vuissing.
For team manager Stewart Dickson, the elusive Championship title is very much at the top of his wish list.
Meanwhile Edinburgh, the 2015 league winners, have a slightly more youthful and international feel to their team.
American and USA national championship runner-up Max Ruml (20), Australian rider Josh Pickering (20) and Swedish Under-21 champion Joel Andersson all make their UK debuts.
German brothers Mark and Erik Riss, Ricky Wells and Matt Williamson complete their number with Ed the Monarch, their royal lion mascot, also listed in the team.
New team captain Erik Riss declared himself ready for action after a practice session in front of the media on Wednesday.
"I was happy with everything today. I needed a few laps just to be sure everything was right. I'm ready for Glasgow on Friday now."