Fernando Alonso finishes 38th on Daytona 24 Hours debut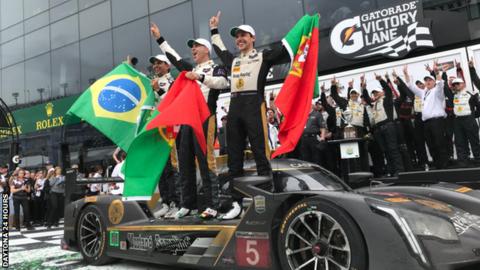 Action Express Racing won the Daytona 24 Hours on Sunday as Formula 1 driver Fernando Alonso came 38th on his sportscar debut.
The winning team of Filipe Albuquerque, Christian Fittipaldi and Joao Barbosa set a new record of 808 total laps, beating the previous tally of 762.
Alonso's United Ligier team dropped out of contention overnight with brake and throttle problems.
The McLaren driver plans to take part in June's Le Mans 24 Hours race.
"Unfortunately we had too many issues that were out of our control," said two-time F1 world champion Alonso.
"[There were] some unlucky situations, first of all with the puncture in the third or fourth stint... We lost four laps with quite a lot of damage on the car.
"And after that we had a brake issue, and we lost 40 minutes. So that was the end of our race, probably. Then we had a throttle issue and then again a brake issue."