MotoGP rider Jonas Folger ruled out for 2018 season by rare illness
Last updated on .From the section Motorsport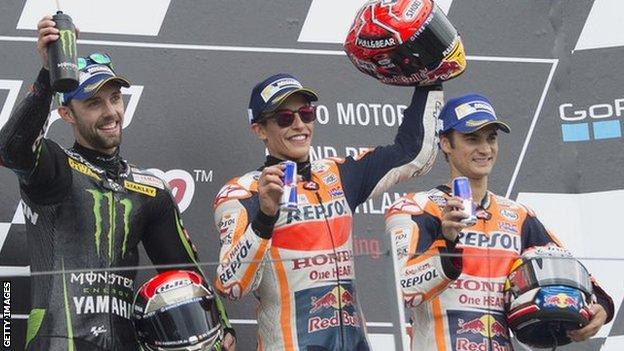 Monster Yamaha Tech3 are looking for a new rider after Jonas Folger was ruled out of the 2018 MotoGP season with a rare illness.
The highly rated German saw his rookie season cut short by Gilbert's syndrome, which forces the body to "shut down".
Folger, 24, hoped to recover in time to race this season but a week before the start of this year's first official test was forced to admit defeat.
He said: "At this stage I don't feel able to ride a MotoGP machine at 100%."
After winning races in Moto3 and Moto2, Folger graduated to the MotoGP ranks last year and was a regular points scorer before finishing runner-up to eventual world champion Marc Marquez in his home Grand Prix in July.
Folger was then left bed-ridden in the build-up to the Japanese Grand Prix in October and returned to Germany for extensive medical tests. He ultimately finished 10th in the riders' standings.
Although Folger had been affected by the condition since 2011, it was only diagnosed in November as Gilbert's syndrome, a genetic disorder that results in the liver being unable to process toxins effectively and affects two to five percent of the population.
Monster Yamaha Tech3 had hoped to field an unchanged line-up for 2018 after re-signing Folger for this season last June but they are now seeking a replacement.
Team manager Herve Poncharal said: "It is still very difficult for me to believe, that he's not going to race with us in 2018, especially because he has been somebody I had lot of faith in and I was sure we would reach top level together this year.
"I completely respect his decision, although it's hard to swallow. Yet, I will try to find a solution for a replacement rider, which is a very difficult mission, as all of the fast riders are already contracted.
"But as always in racing we need to be proactive, inventive and hopefully we can make someone very happy."
Although Folger does not feel physically and mentally ready for 2018, he is confident he will race again.
He added: "I'm incredibly sad to be saying this, but I will not be racing MotoGP in 2018. I wasn't able to make the improvements I was hoping for.
"I hope to be back one day and want to thank you all for your ongoing support."