Sam Sunderland: British rider continues recovery after Dakar Rally injury
Last updated on .From the section Motorsport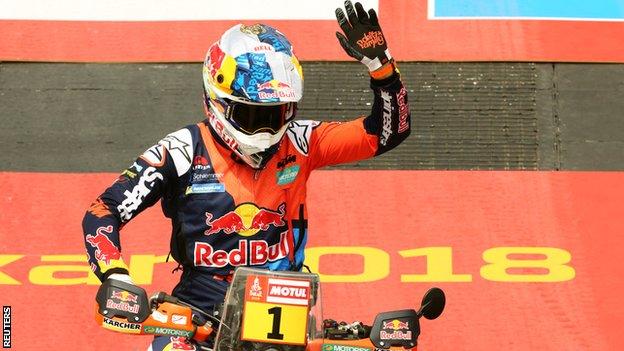 Sam Sunderland is already setting his focus on the motorcycle rally World Championships after injury forced him to retire from the Dakar Rally.
KTM Red Bull rider Sunderland was diagnosed with two "squashed discs" in his spine after losing feeling in his legs while on the bike.
"Luckily the medics got there pretty fast for me," he told BBC Radio Solent.
Sunderland became the first Briton to win the Dakar Rally in any class when he claimed the motorbike title in 2017.
He was leading the rally before being forced to retire on 9 January.
"I haven't seen the footage back of the injury, but I'm told it looks pretty scary," he said. "In the moment, it was quite a rough time.
"It was a strange sensation. When you're on the bike normally, you feel all sorts of pressure through your body anyway over the terrain.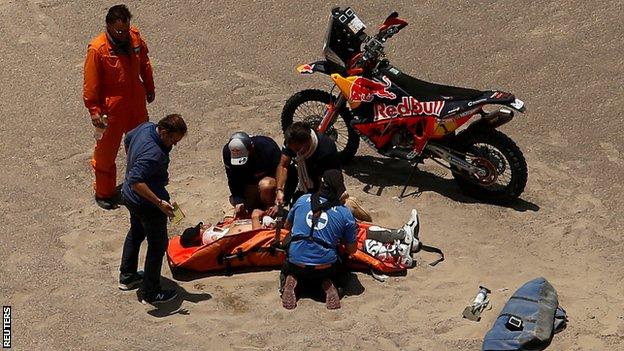 "I didn't have a big, crazy crash as such. I missed a little pocket, like a square hole between the sand dunes, where normally you would land the bike.
"I was going quite fast and had quite a heavy compression and squatted into it, bottoming out in the seat and the pressure went up through my back.
"It was only when I started to lose the feeling in my legs after continuing for another 5-10km that I didn't really have much choice to carry on."
Sunderland has been recovering back in Bournemouth with family before building up to the World Cross-Country Rally Championship from the end of March.
"The Dakar is obviously the biggest race of the year, but the worlds is also quite important for the team," he said.
"It's five rounds, starting in Abu Dhabi. But in the meantime, it's been nice to come home, reset and find the motivation to get some more trophies in the cabinet."