British Touring Cars: Turkington title hopes dashed despite Brands Hatch race win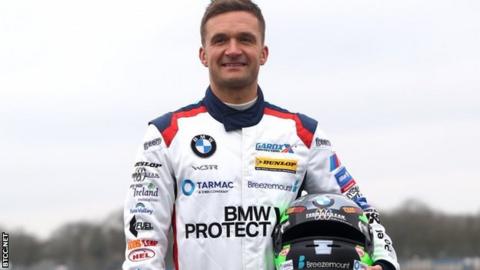 Colin Turkington missed out on a third British Touring Car title after retiring from race three at Brands Hatch on Sunday.
The Portadown driver was nearly out of contention after a disappointing race one, but stormed to victory in race two to reignite his hopes.
However an unlucky exit early in race three ended the Team BMW driver's chances of regaining the title.
Subaru's Ash Sutton claimed the title by 21 points over Turkington.
Turkington hopes hit by qualifying struggle
Turkington started on the back foot, with an electrical problem in qualifying leaving the Portadown man in down in 17th place, with Sutton qualifying in third.
This would prove to be costly for Turkington in race one as he dropped down the order as his rear wheel drive BMW struggled to warm up its tyres.
As the track temperature increased, he moved up to 15th place by the flag but the 10-point deficit extended to 24 with Sutton finishing on the podium.
Turkington was a man on a mission in race two, knowing he had to beat Sutton on-track to take the title to a deciding race and the 35-year-old produced one of the drives of his career as he carved his way through the field.
After passing Sutton at the midway point, Turkington's charge saw him move past long-time race leader Aiden Moffat at Paddock Hill with three laps to go as he cut Sutton's championship lead to six points.
However, the two-time champion's hopes were wrecked in race three as he was caught up in an incident between Mat Jackson and Tom Ingram, which ended up with Jackson being punted into the back of Turkington.
A resultant broken right rear suspension put Turkington out of the race as Sutton cruised to a third-place finish to seal the crown.
Smiley takes two 11th places
Chris Smiley's impressive form continued as he picked up points for the seventh race weekend in succession.
The Carrickfergus driver crossed the line in 11th place after making good progress from 19th on the grid.
Contact while running in 10th ruined any chance of a repeat result in race two but the 25-year-old finished 11th in the concluding race to end the season on a positive note.
Belfastman Charlie Eastwood claimed the Porsche Carrera Cup championship on countback from Dino Zamparelli.
Starting from fourth in race one, Eastwood got an early jump on Zamparelli before eventually crossing the line in sixth place.
Eastwood was pushed wide at Druids in race two after starting fourth but climbing back to secure the fifth place required for the trophy after resisting some late pressure from Tom Oliphant.
Dan Harper rounded out his Ginetta Junior campaign with a double victory around the Kent circuit.
The Hillsborough teenager, who finished fifth in race one, put in two stellar drives in the final two races of the season to end the season third in the championship.