Kris Meeke to drive in Spanish Rally but doubts over his Citroen future persist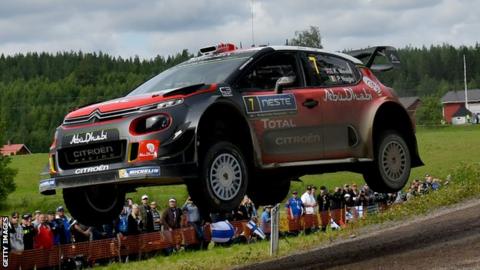 Dungannon's Kris Meeke will lead the Citroen team in next month's Spanish Rally despite crashing in Germany and struggling for pace in Finland.
There is no word on whether Meeke will drive in Wales Rally GB or the season finale in Australia.
It is understood Citroen team principal Yves Matton will decide the line-up for each before entries close.
Meeke has crashed in Monte Carlo, Sweden, Argentina, Portugal, Italy and Germany this season.
The opening four crashes, all from top-five positions, resulted in the 38-year-old being dropped for Rally Poland during the summer.
He returned to the cockpit of his Citroen for Rally Finland, where he trundled home in a low-key eighth place, before crashing on the first stage in Germany.
Meeke did win Rally Mexico during the Spring but only after a dramatic finish as he somehow recovered from coming off the road in the closing kilometre.