Southern 100 club president Derek Nicholson dies on eve of event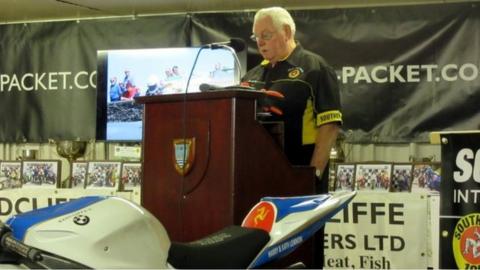 Tributes have been paid to Derek Nicholson, president of the Isle of Man's Southern 100 road races, who died on Saturday after a short illness.
He first became involved in the event, known as the 'friendly races', in 1974 and had been president for more than 18 years.
The Southern 100 has been held on the Billown circuit since 1955.
Spokesman Phil Edge said Mr Nicholson had been wonderful ambassador who would leave a "lasting legacy".
He continued: "He will be sadly missed by all involved with the races on the Billown Course - his presence, input and friendship however will be fondly remembered".
Qualification for this year's event will begin later, with the solo championships to be held on Thursday.
This year's event will include multiple TT winner Michael Dunlop, Dean Harrison and Dan Kneen.