Isle of Man TT 2017: Ben and Tom Birchall claim sixth TT triumph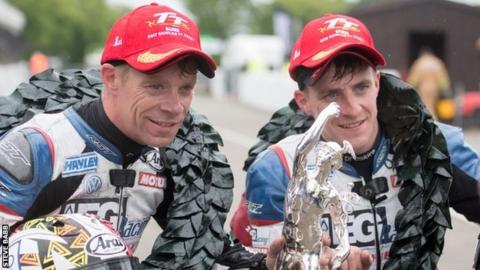 Former world champions Ben and Tom Birchall have completed a sidecar TT double on the Isle of Man.
The brothers from Mansfield finished 26.598 seconds ahead of John Holden and Lee Cain with Conrad Harrison and Andrew Winkle completing the podium.
Ben, who together with his brother set a lap record in Monday's opening race, said it was a "dream come true to win their sixth TT."
Manx duo Dave Molyneux and Daniel Sayle retired at Sulby crossroads on lap one.
"To race around this course is an honour and to race and win people of this quality is a big deal," Ben said.
Their sixth win means they have now won as many TT races as Geoff Duke, John Surtees and Rick Long.
Lewis Blackstock and Patrick Rosney finished fourth, with Karl Bennett and Maxime Vasseur in fifth.
Victory for Anstey
Earlier on Friday, Team Mugen racer Bruce Anstey won the TT Zero race for electric powered machines.
The 48-year-old from New Zealand completed the one-lap sprint of the 37-mile (60km) Mountain Course at an average speed of 117.710 mph.
It was his 12th Isle of Man TT title since making his debut in 1996 and his second consecutive victory in the class for electric bikes.
Anstey's team-mate Guy Martin finished second, 48.417 seconds behind.
Anstey said: "A win is a win and I'm made up with it. The bike was amazing."
Martin, who will not compete is the Senior TT later on Friday, added: "It is the future in some way or other. I've got loads to learn but it was class."
Daley Mathison completed the podium 48.41 seconds down on Martin for the University of Nottingham team.
Dean Harrison finished fourth, with Antonio Maeso fifth and James Cowton sixth.
Six of the eight machines that started completed the one-lap race.