Valentino Rossi: Fan threatens to press charges after paddock collision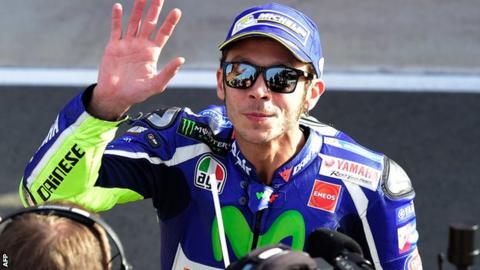 A fan has threatened to press charges against Valentino Rossi following an incident in the paddock that occurred while she was taking a selfie.
A video was released via social media from MotoGP's Valencia Grand Prix, appearing to show the Italian colliding with the fan while riding a motorcycle.
The nine-time world champion apologised for the incident and said that he hoped she was ok.
Rossi, 37, added it was difficult for him to move quickly around the paddock.
Fan Ana Cabanillas Vazquez told Spanish radio station COPE she would have accepted the apology if she thought it "had been an accident".
"Seeing the video, you can tell that it was done on purpose," she said.
"I have a small bruise on my leg. I'll consider pressing charges."
Rossi finished fourth in Valencia, the final race of the MotoGP season and came second in the championship standings behind Spain's Marc Marquez.