NI's Adam Carroll 14th in Formula E race in Morocco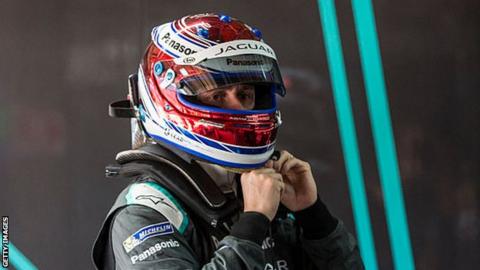 Northern Ireland's Adam Carroll has finished 14th in the second Formula E race of the season in Marrakesh.
The 34-year-old from Portadown recovered well from 20th place after a mistake on his qualifying lap.
The Moroccan ePrix - for electric-powered cars - was won by Swiss driver Sebastian Buemi, who also claimed the season opener in Hong Kong.
British driver Sam Bird crossed the line in second, with Swede Felix Rosenqvist completing the podium.
In qualifying, Carroll left his braking too late at turn one and ran wide onto the dusty run-off area.
Although he managed to keep his car out of the barrier, any chance of a competitive lap time was ruined by the error.
Carroll managed to avoid any trouble at the start of the race, moving up ahead of his Jaguar team-mate, New Zealand driver Mitch Evans, and into 17th place.
Running near the back of the field, Carroll decided to stay out and pit later for his mandatory car change to try and jump his rivals.
The aggressive strategy worked, with Carroll jumping up to 16th place.
Frenchman Loic Duval handed another place to Carroll when he dropped out with mechanical failure, before the Portadown driver passed Chinese driver Ma Qing Hua for 14th with seven laps to go.
Carroll is 18th in the standings after two races in what is Jaguar's debut season.