Dani Pedrosa fit for MotoGP finale in Valencia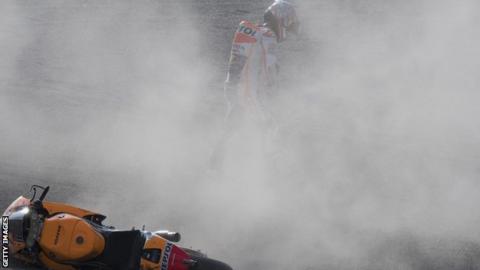 Dani Pedrosa plans to compete in the final MotoGP race of the season in Valencia this weekend, just weeks after he fractured his collarbone, leg and foot in a crash in Japan.
The Repsol Honda rider, 31, was injured in a huge crash during practice for the Japanese Grand Prix.
He said: "These past three weeks haven't been easy because of the pain.
"We're still not sure about how I'll feel on the bike, but I'm happy to be able to get back to racing."
The MotoGP championship was secured by fellow Spaniard and Repsol Honda team-mate Marc Marquez in Japan.
Pedrosa has only won one race all season and is sixth overall.