Rally Isle of Man: British champions Elfyn Evans & Craig Parry win
Last updated on .From the section Motorsport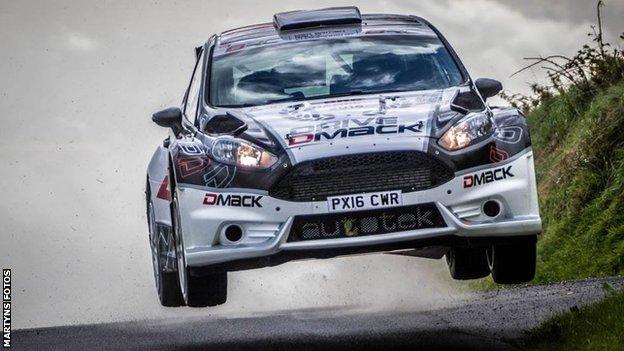 British Rally Champions Elfyn Evans and Craig Parry have won Rally Isle of Man by just under six seconds.
The Welsh driver and his co-pilot overturned a 17.5-second deficit to finish 5.9 seconds ahead of Mark Higgins and Darren Garrod.
Tom Cave and James Morgan completed the podium in their Spencer Fiesta.
Meanwhile, Jason Pritchard and Phil Clarke claimed the Classicagh class and Donnie MacDonlad and Andrew Falconer won the National title.
International
1. Elfyn Evans and Craig Parry (Ford Fiesta R5) 2 hours 6 minutes 14.3 seconds
2. Mark Higgins and Darren Garrod (Ford Fiesta R5) 2:06:20.2
3. Tom Cave and James Morgan (Ford Fiesta R5) 2:07:36.6
Classicagh
1. Jason Pritchard and Phil Clarke (Ford Escort MkII) 2:21:30.3
2. Will Onions and Jamie Edwards (Ford Escort MkII) 2:23:11.0
3. Paul Barrett and Dai Roberts (Ford Escort MkII) 2:23:33.6
National
1. Donnie MacDonlad and Amdrew Falconer (Mitsubishi Evo 9) 2:19:56.0
2. Daniel Harper and Chris Campbell (BMW Mini Cooper S) 2:20:02.7
3. Shaun Sinclair and Neil Shanks (Mitsubishi Evo X) 2:20:46.9