British champions Evans & Craig lead Rally Isle of Man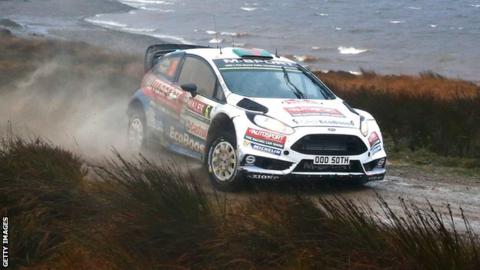 British Rally Champions Elfyn Evans and Craig Parry have opened up a 12.3 second advantage at the 2016 Rally Isle of Man.
The Welsh driver and his co-pilot lead fellow Fiesta pairing Tom Cave and James Morgan after the first day's opening three night stages.
Five-time winner Mark Higgins and Darren Garrod were just 0.4 seconds further back in third.
Crews face a 13-hour day involving 11 stages on Friday.
The day will culminate with the iconic double run through Castletown in the south of the island.
International
1. Elfyn Evans/Craig Parry (Ford Fiesta R5) 14m13.7s
2. Tom Cave/James Morgan (Ford Fiesta R5) 14:26.0
3. Mark Higgins/Darren Garrod (Ford Fiesta R5) 14:26.4