Manx Grand Prix 2016: Andrew Dudgeon wins thrilling Junior GP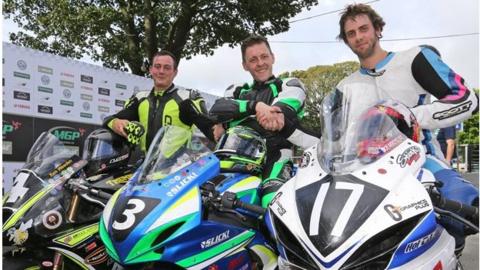 Isle of Man racer Andrew Dudgeon has won a thrilling four-lap Junior Manx Grand Prix by less than four seconds over England's Tom Weedon.
The Ramsey racer finished 3.707 seconds ahead of 22-year-old from Kent, who had led the race for the first three laps.
Dudgeon, who won in a race record time and posted his first 120+ mph lap, said: "It is mega. It felt really fast and I gave it my all."
Joe Akroyd completed the podium places one minute, 35 seconds down on Weeden.
Weeden said: "I was winning up until the second pit stop but there will be another day.
"I will be back for the Senior."
Welsh racer Barry Lee Evans finished 19.5 seconds behind Akroyd, with Mike Moulai and David Lumbsden completing the top six.
Irish racer Andrew Farrell came off just before Glen Helen on the final lap and has been taken to hospital with arm and leg injuries.
Meanwhile, Jamie Hodson won the event's Supertwins race by 16.744 seconds ahead of David Lumsden.
The Wigan racer said he was "over the moon" to finish first.
Junior MGP winner Dudgeon finished 3.317 seconds further back in third.
The Isle of Man's Dan Sayle took the chequered flag in the concurrently run Lightweight class in a new race record.