Festival of Motorcycling: Michael Dunlop clinches Classic TT double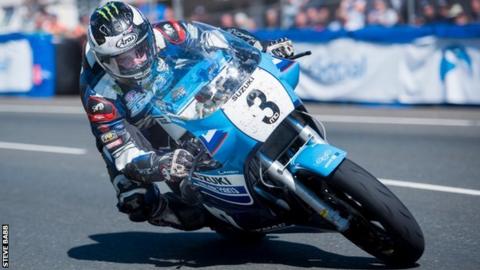 Michael Dunlop won Monday's showpiece Superbike event at the 2016 Classic TT Races on the Isle of Man.
It was the 27-year-old Ballymoney man's second win of the day, having earlier sealed victory in the Junior race.
Dean Harrison, who finished 19.2 seconds behind Dunlop, and third-placed finisher James Hillier were later disqualified from the race.
The decision meant Michael Rutter and William Dunlop were promoted to the podium positions.
In a statement, organisers said four machines were removed from the final result due to "technical infringements", with Jamie Coward and Horst Saiger also disqualified.
Dunlop, a 13-times winner at the TT, broke Bruce Anstey's lap record on his second circuit with a new best of 126.808mph
He also set a new record for the overall time in the four-lap race.
"It was really hard but I kept at it. The big girl was working really well," he said.
Earlier, Dunlop won the Junior Classic TT ahead of Rutter, with Alan Oversby third.
The Northern Ireland rider clawed back a deficit of over 30 seconds on his Black Eagle Racing MV Agusta to take more than a minute off the race record.
Meanwhile, Manx racer Michael Evans won the Manx Grand Prix 'Newcomer A' class - finishing 32.29 seconds inside Shane Connor's 2006 race record.
Evans said: "This is the only reason I started racing - this was the dream - 23 years in the making.
"There were lots of people waving but I tried not to get too excited and make sure I just got across the line. It doesn't feel real."
Australian Paul Van Der Heiden won the 'Newcomer B' class.
Racing continues on the Mountain Course on Wednesday.