British Touring Cars: Colin Turkington takes podium place at Knockhill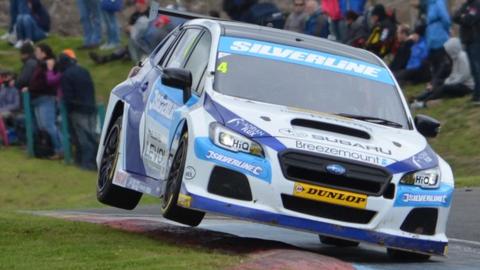 Colin Turkington secured third and fourth place finishes at the seventh round of the British Touring Car Championship at Knockhill on Sunday.
The Subaru driver was third in race one thanks to two well executed overtaking moves late in the race, with Jason Plato taking the victory.
The two-time British champion from Portadown was fourth in race two, 2.83 seconds behind winner Matt Neal.
Turkington finished 24th in race three, with the race being won by Mat Jackson.
Turkington now lies sixth in the overall standings on 183 points, well behind leader Tordoff, who has 231.
Drivers from Northern Ireland also tasted success in the Touring Car support series.
Charlie Eastwood grabbed two second place finishes in the Porsche Carrera Cup, while Daniel Harper from Hillsborough extended his lead in the Ginetta Junior series' Rookie Cup.