Circuit of Ireland cancelled for 2017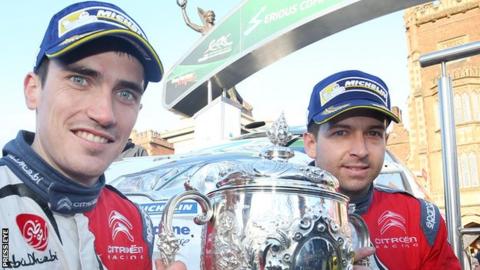 The Circuit of Ireland Rally will not take place in 2017 because of a lack of funding, the organisers have announced.
Event Director Bobby Willis said firm plans for next year's rally could not be made without the necessary 'financial certainty.'
Willis claimed the event had attracted a 40m worldwide television audience and had brought huge economic benefit to Northern Ireland.
He added that efforts would be made for the rally to return in 2018.
The 2016 rally was staged in April and was won for a second year in a row by Craig Breen from Waterford.
"The growing success and size of the event requires precise long term project planning, additional resources and inevitably more financial investment," Willis said on Wednesday.
"We have been working hard with all our funders to plan ahead for 2017 but regrettably the financial resources required are still not in place.
"I believe we cannot risk proceeding with the 2017 event at this point without financial certainty.
"The decision not to run the Rally next year has been the most difficult one I have ever had to make and will be extremely disappointing for a wide range of people including the hundreds of volunteers who have contributed so much.
"Whilst other options for a small, local rally may be considered for next year, my plan is to take the time to work closely with our partners to secure the necessary resources and plan for the Circuit of Ireland Rally to return in 2018 with an even better event."