Behnaz Shafiei rides bikes against laws and convention in Iran
Last updated on .From the section Motorsport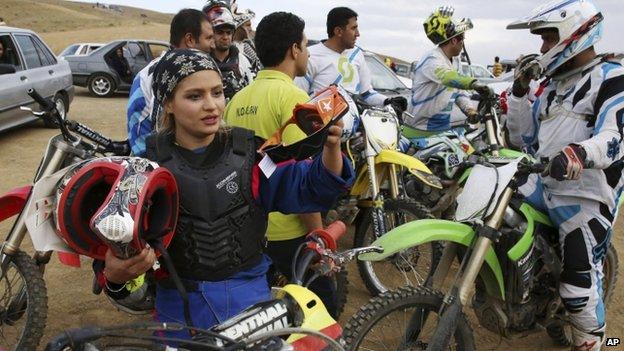 Women are banned from riding motorcycles in public in Iran, but Behnaz Shafiei is working hard to break the status quo.
The 26-year-old has been riding for 15 years and, under the veil of her helmet, is regularly thought to be a man by onlookers.
But when the helmet comes off, those same people are left stunned by the reality.
In a country where some conservative clerics denounce the idea of women attending men's sporting events, Shafiei is making bold moves.
"When two days pass and I do not ride my motorcycle, I get really ill," said Shafiei during a ride on the outskirts of Iran's capital, Tehran. "Even the thought of not having a motorcycle some day gives me an awful feeling.
"Sometimes, I think to myself, 'how did people in the past live without a motorbike?' Is life without a motorcycle possible?"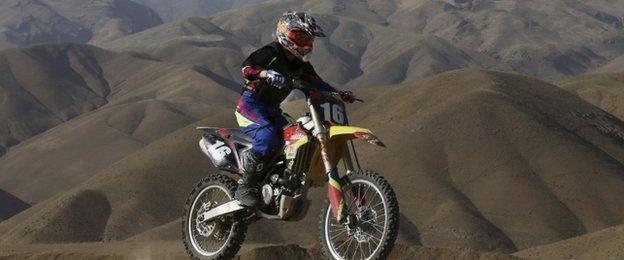 Her comments are similar to those of Theresa Wallach, a Londoner born in 1909 who became the first vice-president of the Women's International Motorcycle Association.
"When I first saw a motorcycle, I got a message from it," Wallach said in a 1977 interview. "It was a feeling - the kind of thing that makes a person burst into tears hearing a piece of music or standing awestruck in front of a fine work of art."
Now, over 500,000 women are estimated to hold a full motorcycle licence in the UK, a stark contrast to Iran, where Shafiei is one of six women who worked to gain access to amateur tracks from the country's motorcycle federation.
But access to ride on public roads is still legally off limits and use of Iran's only standard motocross track at the Azadi Sports Complex in Tehran is also still blocked.
The result for Shafiei, who practices three times a week, is to race on the outskirts of Tehran, away from glare, hidden under her helmet.
"I did not know that it was a woman riding until I noticed her hair," said Mahnaz Rahimi, a local watching on. "It took me by surprise that a woman can be so courageous."
Courage - and plenty of it - will be needed if Shafiei is to reach her goal of being a "pioneer to inspire other women" in a part of the world where the freedom a motorcycle can offer is locked away for an entire gender.