Isle of Man Classic TT: Anstey edges Dunlop to fastest lap
Last updated on .From the section Motorsport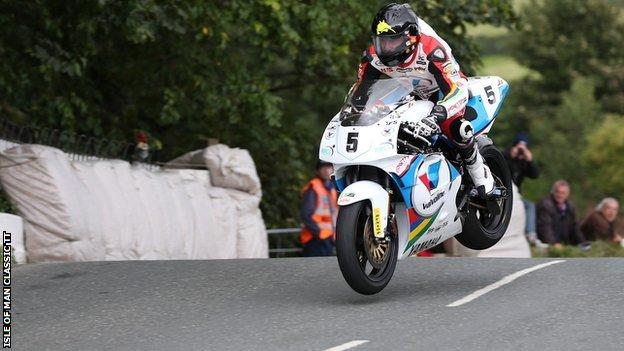 New Zealand's Bruce Anstey posted the fastest lap of the week in Isle of Man Classic TT practice on Wednesday.
The Kiwi moved ahead of Northern Ireland's Michael Dunlop on the timesheets with a lap of 122.523 mph on the two-stroke Yamaha YZR 50.
The 45-year-old said: "The bike was definitely on song and there's more to come. I've got a massive smile."
Dunlop is hot on his heels after also posted his quickest lap of the week on the Suzuki GXSR XR69 at 122.173 mph.
James Hillier, Russ Mountford and Steve Mercer all recorded laps in excess of 118 mph.
Blackpool's Roy Richardson set the pace in the F2 Class with a lap of 110.349 mph on the FCL Racing TZ250.
Dungannon's Ryan Farquhar posted a stunning lap of 111.102 mph in the 500cc class just outside Olie Linsdell's record of 111.660 mph set in last year's race.
William Dunlop (101.271 mph) topped the 350cc times and was the only rider to top 100 mph in the class.
Practice will continue on Thursday with roads closing at 18:00 BST.