Dario Franchitti: Scots driver could remain in IndyCar racing
Last updated on .From the section Motorsport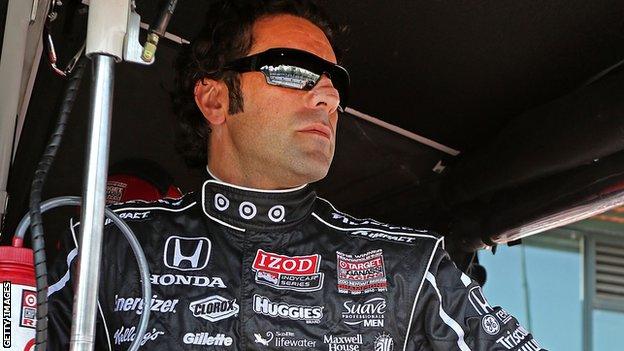 Four-time champion Dario Franchitti could still have a role in IndyCar despite retiring from racing on medical advice following a recent crash.
In his first public appearance since suffering multiple fractures in October's Houston Grand Prix, Franchitti said he hoped to continue to work with Team Target.
"I said that I'd love to stay involved in IndyCar racing and certainly with the Target Team and everybody involved in that," said Franchitti.
"That's something we're working on."
Franchitti, who won the Indy 500 three times, required two operations after breaking his right ankle and was diagnosed with a fractured spine and concussion following the spectacular high-speed collision.
The 40-year-old Scot continues to use crutches, but the lingering effects of the concussion were a major concern for physicians and friends.
After doctors outlined the risks of a return to driving, Franchitti decided to end his career.
"There have been quite a few broken body parts over the years and I kept thinking, there's got to be a way, some kind of negotiation here and there wasn't," said Franchitti, who has agreed to continue working with Chip Ganassi's Team Target in a still-undefined role.
Franchitti finishes his IndyCar career with 31 wins, eighth on the all-time list, and 33 poles, sixth all-time.
After making the move from Champ Car to IndyCar with Michael Andretti's team, he won the first of his three Indy crowns in 2007, then signed on to race for Ganassi's Nascar team.
He returned to IndyCars with Ganassi in 2009 and dominated the series by winning 12 races, twice at Indy, and three consecutive points titles.
"It's been so nice to know that I was appreciated," said Franchitti. "That really helped with the recovery, or part of the recovery so far.
"Rather than being kind of bummed about not getting to drive the number 10 Target Car again and other things after that, I'm just very thankful for the career, for the racing I was able to do.
"I've had fun doing this, I'm looking forward to the future now.
"There's been some crap days, there's been some devastating days, but for the last 30 years I have had a really good time."
Team manager Mike Hull believes Franchitti can help the team make a smooth transition with two new drivers - Tony Kanaan, who will replace Franchitti in the No.10 car, and Ryan Briscoe, a former Indy pole winner - without losing any of the dominance earned over the past five seasons.
"We're working to make that happen," said Franchitti. "Hopefully that will come along soon and I can start really getting involved with working with the team and continuing that."