Prodigy singer Keith Flint signs Steve Mercer for Isle of Man TT
Last updated on .From the section Motorsport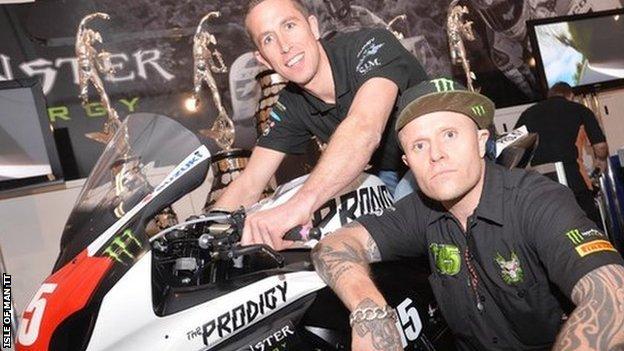 Prodigy front man Keith Flint has confirmed that Kent rider Steve Mercer will ride for Team Traction Control at the 2014 Isle of Man TT.
Mercer's fastest-ever lap of the Mountain Course is 126.323mph and his highest finish of eighth came in 2013.
"Doing the TT is not just something I want to cross off my bucket list. We are going there to do a job with a very capable rider," Flint said.
"We will be using some top notch bikes and I can't wait."
Keith Flint, team principal at Team Traction Control, added: "After racing myself for several years I know what's needed to compete on two wheels but I think taking on the Mountain Course is something I couldn't dream of doing myself.
"I believe it's one of the biggest motorcycle races the world has to offer and I'll put the best team out there possible".
Mercer will also compete for the team at the NW200 and Macau Grand Prix.
The 31-year-old first competed at the TT in 2009 and won the coveted Best Newcomers Trophy.
He will race in the Superbike, Superstock and Senior TT aboard the team's TAS Racing supported Superbike and Superstock machines, as well as riding a Suzuki GSX-R 600 in the two Supersport races.
"I think this is my chance to kick on and get top ten in the superbike races," Mercer said.
"Although it's a fledgling outfit they have an experienced crew with the likes of Grant Bunting, who worked with Shaun Muir's team last year, and we've already got some races under our belts.
"I think that this is my chance to kick on and get into the top ten in the Superbike races at the TT.
"I'm also really looking to get out on a 600 for the first time on the Mountain Course and I think that doing the extra races will help with my overall preparation."